Finding Forrester/B+,B+
Columbia/2000/136/ANA 2.35
I was very impressed by Finding Forrester in its theatrical run. Watching it again on DVD provided equal pleasure. It's a clever concept providing many dramatic and humorous possibilities. The relationship between the young black man and the aging hermit writing legend plays out with humor and sagacity.
Set in the Bronx near Yankee Stadium, the urban street sense smells right. Those pick-up basketball games played with intensity under the gaze of the mysterious Forrester ease into the mystery of the man with the glasses.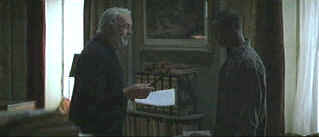 Setting a Forrester fire. ©Columbia
Jamal is a young black man struggling to find his way through the ghetto. Jamal is smart; often too smart for his surroundings. If he doesn't have a basketball in his hands he's reading a book or making notes in his voluminous journals. An idle challenge leads him to a fateful meeting with neighborhood recluse William Forrester. At the same time, basketball and brain get him an audition at an elite high school. The best scenes feature the verbal banter of Forrester and Jamal. Their relationship evolves bringing a sense of purpose to each of them.
Watching Sean Connery unraveling the emotions of the white haired unpredictably cantankerous writer William Forrester is a joy. Connery brings incredible conviction to his dialogue, letting roll off his lips with consummate ease. Forrester displays an interesting range of emotions and Connery never falls short in finding the right vocal or visual nuance to discover the truth of the moment. Rob Brown is remarkable as Jamal. Itís his first acting gig and heís natural and unafraid. I think the role was a great fit. And he holds his own in the shadow of great Sean Connery just as Jamal Wallace stands tall alongside William Forrester. Anna Paquin does some nice work as rebellious preppie Claire Spence. F. Murray Abraham has a tougher job in dealing with the black and white character of arrogant teacher and failed author Robert Crawford.
Mike Rich, the Portland talk show host and film critic did a terrific job writing Finding Forrester. Elements of the material are manipulative, but with a tougher director, those moments might have worked better. Gus Van Sant was okay as the director, but I donít think he was especially sensitive to the material and some of the scenes would have played better from another director.
A handsome DVD that is faithful to the original material. Cold palette used by director Van Sant did not look spectacular in the theaters and the DVD suffers from the same mediocre visual treatment. Colors are accurate with good saturation. Some peak transition ringing shows up from time to time. Good contrast range and black level. Excellent shadow detail allows for revealing dark scenes. The edges of the Bronx buildings are stable and the skies are not overly grainy. Overall detail is very good. Dolby Digital 5:1 surround is nicely recorded with ambient details well-located.
An HBO making of featurette and a short tracing the casting of Rob Brown, a couple of deleted choir scenes, and a quartet of theatrical trailers including Finding Forrester complete the package.



DVD Easter Eggs
How do you take them? Fried or scrambled. Get the secrets here.
---


The Cinema Laser
A home grown magazine for laserphiles that has been publishing for a number of years and has embraced DVD in a big way. Lots of helpful information.
---


DVD retailer of Canadian and US domestic releases.
---


An on-line Home Theater magazine with excellent hardware reviews, including thorough and responsible research. Check it out.
---


Selections from the Feature Archive include articles on Akira Kurosawa, Blonde Bimbos, Frank Darabont, Steven Culp, John Herzfeld or Vietnam: The Hollywood Pariah, and many more....
Director Walks the Wire


Balanced by an armor of movie lore and filmmaking daring, director John Herzfeld is comfortable walking the high wire. Check out this interview by Stu Kobak.
---