Exit Wounds/D+,A
Warner/2001/101/ANA 2.35
Does the title refer to what audiences must have felt on leaving the theater? This is really an inept attempt at providing a story line for fading action star Steven Seagal to walk, kick, smirk and crunch his way through. The total lack of logic and reason of the script suggests that the writers were only concerned with cutting to the next car chase or kick fight.
Exit Wounds starts out with a huge set piece concerning an attempt on the US Vice president's life. Making a gun control speech in Detroit, the VP runs into some unexpected traffic when leaving the city. Thank heaven for cops like Orin Boyd. Boyd isn't supposed to be there to save the day, but that doesn't stop him. He's a one-man army, a killing machine ready to sacrifice life, limb, and job security to throw himself in harm's way. The opening turns out to to be the highlight of the film. The explanation for the events is so lame as to insult almost any audience.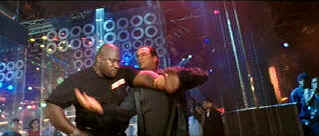 The Seagal waltz. ©Warner
Boyd is rewarded for his heroics with a transfer to the worst precinct in the city. He makes his presence immediately felt with his winning personality. But Boyd's got a good sniffer and he knows something's rotten in the 15th. There's a drug plot, a fast talking dealer who runs a fancy night spot and drives exotic cars, a partner he can trust and lots of antagonism from the back room boys in blue. Boyd is not to be stopped, by bullets, politics, dirty cops or street toughs.
Steven Seagal maintains an expression chipped from stone throughout the various nonsense. He's joined by hard staring rap star DMX, motor mouthed Anthony Anderson, and straight-laced Isaiah Washington.
Andrzej Bartkowiak directs with little concern for story. The former cinematographer makes everything look snappy at least. I may not be a fan of rap music, but the hip-hop driving beat was the best element in this senseless exercise.
Quite a beautiful transfer. Rich, fully saturated color and sharp detail displayed consistently throughout the program. Night sequences pop off the screen with admirable gloss. No artifacts in evidence. The transfer handles all the motion and explosions with panache. The bass rocks and the action is whipped about all over the home theater in a multidirectional assault.


Ghost Dog: Way of the Samurai



Ancient Japanese samurai tradition compared to new world Italian mobsters filtered through the imagination of Jim Jarmusch. Forest Whitaker is outstanding.
---

Click on the DVD MIA symbol for profiles of DVDs missing in action.
Add films to the DVD MIA Master List by filling out a simple form. Click Here
---

The Movie Poster Archive include extensive poster images from the films of stars like Susan Hayward, Kirk Douglas, Katharine Hepburn and many more. Our featured star is Robert Mitchum
---


Selections from the Feature Archive include articles on Akira Kurosawa, Frank Darabont, Blonde Bimbos, Hollywood Street Gangs, or Vietnam: The Hollywood Pariah, and many more....



Screen legend Gary Cooper won two Academy Awards© as Best Actor during a career that included 114 Hollywood films. Click on his image for a bio and poster images.