Elephant Man, The (SE)/ B+, B+
Paramount/1980/123/ANA 2.35/BW
John Merrick is a disfigured sideshow exhibit when Dr. Frederick Treves happens on him in The Elephant Man. Treves frees Merrick from the horrific chains of his disease by the caring intervention. Set in late Victorian England in a world blowing between modern and archaic medicine, the stirring drama is based on fact.
The greatest achievement of The Elephant Man is the gradual evolution of Merrick from unwatchable freak to gentle human being. It's a shared experience between screen characters and audience. It's one of those difficult screen journeys that are imminently satisfying on reflection.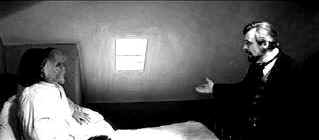 Treves implores Merrick. ©Paramount
John Hurt gives a painfully delicate performance as Merrick. Buried beneath hideous make-up replicating the distorted appearance of Merrick, Hurt uses his voice to remarkable effect. Credit director Lynch for making sure every subtle gesture in Hurt's performance is cleanly delivered on film. Anthony Hopkins brings Treves to life with insightful candor. A detached coldness provides Treves with distance, yet beneath medical observer is a man who comes to care deeply.
Filming in black and white adds an edge of documentary to the production. The shadowy photography of DP Freddie Francis and stark sets of Stuart Craig focus attention on Merrick like high key lights. The excellent script, written by Eric Bergen, Christopher Devore and Lynch, is insightful, introspective and sensitive without caving in to sentimental.
The Elephant Man is another DVD delivered respecting David Lynch's druthers to no chapter stops. It's a bit of pain in the neck. Blacks are rendered deeply and shadow detail is outstanding on this widescreen DVD treatment. The image is consistently sharp with no hint of artifact jitter or stingy compression. Some slight edginess creeps in here and there. Overall depth of image is excellent. Contrast range and overall light output are fine.
A solid but standard thirty minute making of featurette includes observations of John Hurt, Mel Brooks, Jonathan Sanger, make-up designer Christopher Tucker and DP Freddie Francis. A two minute short examines making John Hurt's mask. A four minute narrated make-up photo gallery concludes the package.


Selections from the Feature Archive include articles on Akira Kurosawa, Frank Darabont, Blonde Bimbos, Hollywood Street Gangs, or Vietnam: The Hollywood Pariah, and many more....
Body Parts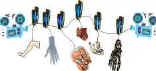 Hollywood's long fascination with parts of the body is explored piece by piece.
---
Looking for a good Foreign Film Fix? Here's a list of reviews that can get you started on an overdose. Click here to satisfy the urge.



Agoraquest is offering reviews, forums, news, and more dedicated to Sony products including, televisions, cameras, audio, DVD, and more.
---


List Your DVD
Reader DVD Reviews and base DVD information. You can also submit a list of your favorite DVDs.
---


Home to The American Society of Cinematographers. Includes features from American Cinematographer Magazine and more...
---


"CinemaQuest has matched the correct TV color of gray in a light fixture."__Joe Kane
Monitor bias lighting in a pre-packaged configuration. Take the strain off your eyes.
---


Terrific resource for learning about the ins and outs of movie poster collecting.
---