Dr. No/A-,C+
MGM-UA/1962/110 minutes
A spectacular debut for the Bond series from the opening titles to the delightful fade out, Dr. No chartered international waters with all the aplomb of its main character. From character detail to delicious locales, this is film enchantment.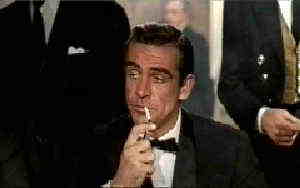 Banco! ãMGM-UA
For the most part the anamorphic DVD transfer is all right. The transfer elements are grainy to begin with and some sections of this DVD look simply awful. Sunny blue skies are a mass of large grain. almost as if the elements have been overly enhanced, hence excess ringing of the grain. The sound is on a par with the visuals. The bottom line is that it's hard to detract from the fun of watching Sean Connery in his Bond bow.
Home Theater Reference System
Laser discs and DVDs are evaluated on the following current home theater equipment: Stewart 6' x 11' Videomatte 1.33 Gain Screen, 2 Runco 980 Ultra Projectors stacked, Faroudja LD100 Line Doubler, Lexicon DC1 Surround Processor/Switcher, 2 Pioneeer Elite CLD-97 Laser Disc Players with AC-3 Modification, Sony 7000 DVD Player, Toshiba SD-3006 DVD Player, Total Media Systems Reference Home Theater Suite, LR Fronts, Center, LR Sides, LR Rears, 2 Velodyne F1500R Subwoofers, Sunfire Cinema Grand5 Channel Amp, Sunfire 2 Channel Amp, Lexicon RF Demodulator, Lexicon T-500 System Remote Control, Speaker Wire and Interconnects by Straight Wire.
HOT LINKS

The American Widescreen Museum
The wealth of information about widescreen movies is presented in a intelligent and easy to understand interface. Color in movies is given a similar treatment.

Robert Harris is part of the dynamic duo that restored Lawrence of Arabia, Spartacus, My Fair Lady and Vertigo. Harris rides a white horse into the battle to preserve our film legacy. Click on the image to read more.
Check out the Movie Poster Archive for short bios and images of Susan Hayward, Kirk Douglas, Katharine Hepburn and many more. This month's featured star is John Wayne. The Feature Archive has articles ranging from Akira Kurosawa to Blonde Bimbos and John Ford.



Click on the image of The Heistmasters for an interesting feature on the tough guys that pull off the big jobs.