Dirty Rotten Scoundrels/B+,B
MGM/1988/110/ANA 1.85
The battle for king of the hill in the French Riviera playground of Beamont sur Mer is sheer delight. Frank Oz's fleet-footed flick from a Dale Launer (My Cousin Vinny) script has more twists and turns than a French Riviera mountain road.
British resident Lawrence Jamieson makes a lordly living charming rich women into generous contributions for various dubious patriotic causes. With the chief of police in his left pocket and a polished manservant in his right, Jamieson struts through the casinos with the presence of a wounded diva. When a crude American two-bit gigolo Freddy Benson arrives on the scene, Jamieson must take steps to insure his fruitful domain. The result is a non-stop competition with side-splitting results.
The beautifully frothy comedy comedy basks in the sunshine of its enticing setting; it makes your mouth water for a sip of the view and sophistication. Dirty Rotten Scoundrels is one of those films that delivers belly laughs on repeated viewings Remarkably, the film provided as many laughs the recent second time around. The montage bridging is constructed by Frank Oz like with classical composer precision. There's nary a wasted image.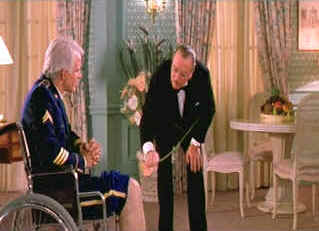 The Schauffhausen method. . ©MGM
Michael Caine is a joy as con man Laurence Jamieson, the resident king of Riviera cons. Frank Oz makes the most of Caine's dry reaction responses to co-star Steve Martin's nonsense. Caine does more with a pursed smile and a glint in the eye than most actors accomplish with obviously labored strokes. He's really a gifted actor/comedian. Caine polishes his British upper crust for pure Sterling results. Steve Martin contrasts the Caine sophistication by polishing his American brash brass to reflect crude with every ray of the sun. Martin's best moments are his crudest. The actor's Freddy Benson milks the flip side of Caine's Jamieson into a thick lather of whipped cream. Together, they are delicious. Glenne Headley, formerly Mrs. John Malkovich, is quite wonderful as Janet Colgate, the presumed soap heiress. Her awkward, stalk-like presence adds a lot to the film. She's had a strange career, never fulfilling some of the promise that is evident on screen in this daffy truffle of comic perfection.
Frank Oz directs with obvious joy. He's generous with his actors, consistently getting the most from them. Oz's sense of comic timing is evident; no scene drags on too long, yet the comedy always enough air to breath freely. The score tracks the action wonderfully as well., perfectly in synch with brash American Freddie Benson. Michael Balhaus' cinematography is scrumptious with wonderful lighting complimenting the comedy and adding a postcard gloss.
Dirty Rotten Scoundrels in its latest anamorphic DVD incarnation is a great improvement over the widescreen DVD released by Image a couple of years ago. It's still not as sharp as it could be, but it's more than adequate to deliver every yummy moment of hilarity. Black levels are very nice. Black tie fabrics get a nice luster without losing clothing detail. Night shots are glossy. Color saturation is consistently satisfying. A nice range of suntans is produced with natural effect. Dialogue is delivered with clean precision and music floats delightfully around the action in the Dolby Digital 2-channel surround mix.
Frank Oz has recorded an audio commentary, recording his memories of making Dirty Rotten Scoundrels. Thanks, Frank, for your generosity in sharing anecdotes and technical specifics about the production. It's thirteen years since Oz has seen the film and it's wonderful to hear his laughter as he watches some of the scenes. Oz is generous with credit for the film. Balhaus is responsible for defining the look of the film with his cinematography. Steve Martin is given many nods for his improv work. Oz's brief treatises on successful comedy are especially good "The tone is kind of an agreement with the audience. If you set the right tone, you can do a lot of stuff. If you set the tone and then you change tone, then it kind of throws the audience."

Jou Du/A,B-


A sexy Chinese noir. Bold colors paint stirring emotions in a small provincial town.
---


Selections from the Feature Archive include articles on Akira Kurosawa, Frank Darabont, Blonde Bimbos, Hollywood Street Gangs, or Vietnam: The Hollywood Pariah, and many more....



Catch the Hollywood take on Blonde Bimbos by clicking on the image above.
---



Glenn Erickson's insightful DVD reviews have been a Internet fixture for several years. Check out some of his sophisticated feature articles. Currently hosted by DVD Talk.
---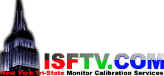 ISF Monitor Calibrations in the Tristate New York area. Lots of hardware info and frequent hardware peaks from video expert Kevin Miller. They may be judgmental, but that's the point, isn't it. Lots of DVD reviews plus news and more.
---

---
MRQE
Find reams of movie and DVD reviews at the Movie Review Query Engine, a index of reviews appearing on the Internet.
---


Mystery writer Fred Hunter digs into classic films on DVD. Check out his insightful reviews at The Classics on DVD.
---

Michael Douglas in Falling Down, looks quizzically at Robert Duval: 'You mean, I'm the bad guy'