Devil's Own/C+,B+
Columbia/1997/111m/ANA 2.35,PS 1.33
Harrison Ford plays a straight-arrow cop and Brad Pitt is an IRA terrorist rooming with Ford's family while he prepares to purchase some nuclear warheads to float over to Ireland aboard one very rusty vessel. Ford's cop story and Pitt's terrorist story evolve separately until they inevitably intersect with painful and dire results for both men. It actually sounds better than it is. It's difficult to become involved with either of the characters due to the watered down story-telling. The action does not even build properly toward the ultimate confrontation between the two stars. It's like getting a puzzle where all the pieces don't match.
Some elements of the film play better than others. The pitched IRA battle opening is well crafted and exciting, making the rest of the movie a decided let-down. The sub-plot dealing with the purchase and delivery of the missiles is poorly written and laughable played out. Ford and Pitt are sturdy in their respective roles. The presence of Ruben Blades is always a pleasure and Treat Williams has some tough lines to deliver as the arms purveyor.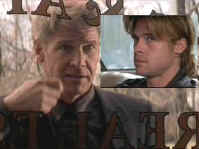 Ford vs. Pitt turns out flat.©Columbia Tristar
This is not an especially exciting looking DVD. It's well done but rather mundane just like the material. Some scenes are slightly grainy, but colors are accurate and the transfer is sharp without enhancement artifacts
Home Theater Reference System
Laser discs and DVDs are evaluated on the following current home theater equipment: Stewart 6' x 11' Videomatte 1.33 Gain Screen, 2 Runco 980 Ultra Projectors stacked, Faroudja LD100 Line Doubler, Lexicon DC1 Surround Processor/Switcher, 2 Pioneeer Elite CLD-97 Laser Disc Players with AC-3 Modification, Sony 7000 DVD Player, Toshiba SD-3006 DVD Player, Total Media Systems Reference Home Theater Suite, LR Fronts, Center, LR Sides, LR Rears, 2 Velodyne F1500R Subwoofers, Sunfire Cinema Grand5 Channel Amp, Sunfire 2 Channel Amp, Lexicon RF Demodulator, Lexicon T-500 System Remote Control, Speaker Wire and Interconnects by Straight Wire.
HOT LINKS

The American Widescreen Museum
The wealth of information about widescreen movies is presented in a intelligent and easy to understand interface. Color in movies is given a similar treatment.

Robert Harris is part of the dynamic duo that restored Lawrence of Arabia, Spartacus, My Fair Lady and Vertigo. Harris rides a white horse into the battle to preserve our film legacy. Click on the image to read more.
Check out the Movie Poster Archive for short bios and images of Susan Hayward, Kirk Douglas, Katharine Hepburn and many more. This month's featured star is John Wayne. The Feature Archive has articles ranging from Akira Kurosawa to Blonde Bimbos and John Ford.



Click on the image of The Heistmasters for an interesting feature on the tough guys that pull off the big jobs.