Devil's Advocate/B-,A
Warner/1997/144/ANA 2.35
Just as the Devil seduces our dark side, director Taylor Hackford uses his filmmaking skills to make audiences want to like The Devil's Advocate. This is a very slick production with polished photography, tasteful production design and big star power. The fact that it ultimately falls from its elevated appearance can be laid at two doors. Hackford clearly lets the tone wander from social commentary to horror film to satire. Whether in the script or the editing, an audience is left with an emptiness in that place you are supposed to feel something. The other major problem is that Al Pacino is so far over the top as the Devil, making this a performance show instead of building a character. Me, I think this film would have worked much better with a silkier, less obvious performing Devil. Now, I admit Pacino is often entertaining in his broad mannerisms and one can sense the obvious relish he takes in making devilish pronouncements, but it takes me out of the story.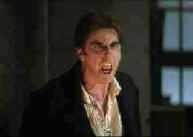 You're such a devil Al..©Warner
Starring alongside Pacino is Keanu Reeves. He plays the hot shot Southern lawyer recruited by a big city firm for his uncanny ability to pick winning juries. Reeves holds his own against the theatrics of Pacino, acquitting himself nicely in the role. Beautiful Charleze Theron plays Reeves' savvy wife who finds herself out of her league in New York. Her performance is heart rending, though the script is not always cooperative for her.
The movie succeeds as broad entertainment, touching too many bases. At times, it plays like one big lawyer joke. But, if you don't expect too much from it, you'll have fun. It is a beautiful looking film.
The Devil's Advocate is a gorgeous DVD. Presented in anamorphic widescreen 2.35:1, widescreen, and Pan and Scan, there is no evidence of compression artifacts and the image is razor sharp with no undue edge enhancement. The lush production design is captured in rich colors. The Dolby Digital 5:1 surround sound is exciting and bass impact is felt in the bigger scenes. This special edition includes running director's commentary. Hackford, always straight forward, however spends too much time simply describing the action we are watching. The more than 30 minutes of deleted scenes are excellent and the director's commentary more illuminating here. There are also trailers and TV spots. A worthy DVD.

.
The Movie Poster Archive include extensive poster images from the films of stars like Susan Hayward, Kirk Douglas, Katharine Hepburn and many more. Our featured star is Cary Grant.
---


Selections from the feature archive include articles on Akira Kurosawa, Frank Darabont, Blonde Bimbos, Hollywood Street Gangs, or Vietnam: The Hollywood Pariah, and many more....

Film noir: The phrase hangs awkwardly on the tongue, shadowy images peek out from behind half-closed doors. Click on the Noir and Noir Again symbol for a look into the dark spaces of Hollywood's revisiting of film noir.
---



Fine reviews, features and news on DVD. The Big Picture has been doing DVD as long as anyone. Jeff McNeal and Bob Banka feed on a steady diet of DVDs.
---


Cyber Theater is an outstanding source for accurate video information. Check out their 16 x 9 format guide for a thorough understanding of DVD encoded that way.
---
Brad Lang continues to add more interesting to the extensive collection at Classic Movies. Everything from actors and actress to your favorite directors is linked at the site.
---


News, information, features about current films in theaters and in the pipeline. Easy to use interface.
---


Looking for information about widescreen movies and hardware. The Widescreen Movie Center is the place to go.
---