Crow:City of Angels/C-,B
Miramax Dimension/1996/93m/WS 1.85
The sequel to the very successful The Crow is a dark and unimaginative copy of the original without the life force that drove the first production. A straight forward, messy, revenge actioner, set in the darkest possible locales, this film is a boring series of violent confrontations. Guess what, all the bad guys die.
Vincent Perez plays Ashe, risen from the dead, in a leaden, one-dimensional performance. Not that you can blame him since there's little for him to do but glare and the scenes are dark enough to mask any notion of emotion that the actor may have mustered for this role. Mia Kershner, after her interesting work in Adam Egoyan's Erotica, goes mainstream with lame results.
If you're satisfied with senseless action accompanied by a loud and banal soundtrack, maybe you can derive some pleasure from The Crow: City of Angels. I kept waiting for something interesting to happen and was disappointed at virtually every turn.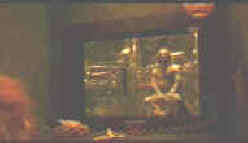 Bloody peep show. ©Miramax
The unrelenting darkness of this DVD is transferred with good results, though it proves a challenge to consistently deliver detailed images. Blacks are slightly crushed in the overall palette and darker details are not always clear enough. The Dolby Digital sound is dynamic with plenty of crush. You'll feel it every time Ashe throws someone through a window or a wall.


Selections from the feature archive include articles on Akira Kurosawa, Frank Darabont, Blonde Bimbos, Hollywood Street Gangs, or Vietnam: The Hollywood Pariah, and many more...



Is North by Northwest Hollywood's definitive exploration of the nose? From schnozzles to beezeers, film mavens make the most of the foremost. Click on Mount Hitchcock for more.
---


Gary Morris's insightful publication Bright Lights Film Journal turns the celluloid in films from a unique perspective. Click on the image above for more pure movie views.
---


Formerly Best Bets on Laser. And so it goes.
---


Elegant DVD portal with news, reviews, links and information galore.
---


Many movie related links in an easy interface. You can even rate the sites.
---