Crimson Tide/A-,A-
Hollywood/1995/116m
The nuclear confrontation actioner set aboard the United States Submarine Alabama is enormously successful in accomplishing its goals. It sets up the confrontation between Captain and Executive Officer of the boat carefully as it parallels the confrontation between the United States and Russia. Tension are maintained so tightly that those minor false steps do not intrude on the pure pleasure of this underwater voyage.
The brilliance of Crimson Tide is that it does not present a clear cut case of right and wrong for either Captain Ramsey or Lt. Commander Hunter. Each, in his own way, has acted right and wrong. Obviously, Hunter is proven right in terms of result and the script does paint lopsided picture of Ramsey. There are questions: Is the picture painted of Ramsey consistent with the way his men feel about him? Are Ramsey's actions indeed consistent with the man he has been set up to be?
Denzel Washington and Gene Hackman are fabulous. George Dzundza, playing Cob(Chief of Boat)is given an excellent role to show off his acting skill and Viggo Mortensen does excellent supporting work in the role of Weps.
Director Tony Scott has done a terrific job of putting together the diverse elements that make Crimson Tide such a top notch film experience. Scott opens up the confines of the submarine with imaginative movement, yet maintains the claustrophobic tension.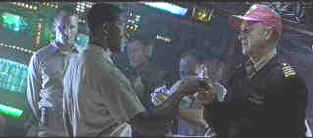 Hunter vs. Ramsey. Deep confrontation.©Hollywood
Crimson Tide looks excellent on this widescreen 2.35 DVD, but I can only think how much more beautiful this finely shot film would look anamorphic widescreen. Still, the difficult reds of the film are brilliantly contained and all the low light situations look uniformly clean and detailed. The 5:1 surround sound is extremely detailed, defining the mechanics and boundaries of the submarine with military precision.
Home Theater Reference System
Laser discs and DVDs are evaluated on the following current home theater equipment: Stewart 6' x 11' Videomatte 1.33 Gain Screen, 2 Runco 980 Ultra Projectors stacked, Faroudja LD100 Line Doubler, Lexicon DC1 Surround Processor/Switcher, 2 Pioneeer Elite CLD-97 Laser Disc Players with AC-3 Modification, Sony 7000 DVD Player, Toshiba SD-3006 DVD Player, Total Media Systems Reference Home Theater Suite, LR Fronts, Center, LR Sides, LR Rears, 2 Velodyne F1500R Subwoofers, Sunfire Cinema Grand5 Channel Amp, Sunfire 2 Channel Amp, Lexicon RF Demodulator, Lexicon T-500 System Remote Control, Speaker Wire and Interconnects by Straight Wire.
HOT LINKS

The American Widescreen Museum
The wealth of information about widescreen movies is presented in a intelligent and easy to understand interface. Color in movies is given a similar treatment.

Robert Harris is part of the dynamic duo that restored Lawrence of Arabia, Spartacus, My Fair Lady and Vertigo. Harris rides a white horse into the battle to preserve our film legacy. Click on the image to read more.
Check out the Movie Poster Archive for short bios and images of Susan Hayward, Kirk Douglas, Katharine Hepburn and many more. This month's featured star is John Wayne. The Feature Archive has articles ranging from Akira Kurosawa to Blonde Bimbos and John Ford.



Click on the image of The Heistmasters for an interesting feature on the tough guys that pull off the big jobs.