Collateral Damage (SE)/ C+, A-
Warner/2001/109/ANA 1.85
Revenge is a vicious mistress. Get into bed her and you're likely to get a dose of the unexpected. Collateral Damage is part revenge drama, part terrorist treatise, with a dollop of political consciousness.
When a terrorist bomb spreads death and horror beyond its immediate targets, fireman Gordy Brewer is devastated. In short order he must deal with smothering loss. Gordy is a man of action. When it appears that only a lackluster attempt to find the perpetrators of terrorist act will proceed, Gordy goes into action.
The script under the direction of skilled filmmaker Andrew Davis provides lots of information in the early sequences with clean expediency without seeming overly expository. You understand a lot about Gordy Brewer, what he does for a living, his family relationships, the setting, but it all turns out to truly have little relevance to the way the character acts. The initial explosion is handled with restraint and is therefore much more effective. Arnold Schwarzenegger is quite good in these early scenes displaying a depth of emotion. But when Collateral Damage gets down to its natural order of business, that is, being a pretty typical Arnold action flick, Arnold settles into familiar patterns and there's little more than wooden acting.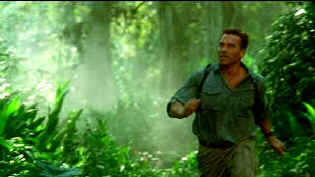 Post Predator Arnold visits the jungle again. ©Warner
The action is well executed. It's certainly well filmed. But the story leaves a lot to be desired. Plodding plotting: the level of improbability is very high. It certainly deals with topical material in terms of the terrorist act that sets the plot wheels in motion, but it doesn't really have additional resonance even in light of unfortunate recent events. Suspending disbelief is a tough banana to peel. Some of the characters are drawn very archly. Pretty stiff confrontational scenes play falsely. There is an attempt to humanize the gorillas, showing how good people can turn bad, but even that is heavy-handed. I suppose you could say some of the surprises are effective.
The Columbian settings are lush, New York's got plenty of gloss and even Washington plays fine. Some of the stunts are definitely cool. In a mindless way, Collateral Damage provides a measure of entertainment, but don't waste much time thinking about it.
The cast trailing in pursuit of Arnold include Elias Koteas as CIA Agent Brandt, who struggles to spark any life into the character. John Turturro turns up in an unfamiliar role to limited effect and John Leguizamo runs a drug factory. Beauty is supplied by a lithe and dangerous Francesa Neri, while Cliff Curtis walks through the role of rebel leader Claudio with a stiff gait.
Collateral Damage gets a consistently sharp transfer from Warner with only slight lapses into high peak transition edginess. Deep blacks give the DVD a rich look. Excellent shadow detail provides good depth in every lighting situation. Outstanding light output and wide dynamic range of contrast maximize the theatrical appearance of the DVD. Fully saturated color with excellent range adds additional life to the picture. Textures are rich. Flesh tones display a subtle range. The Dolby Digital 5:1 soundtrack is active and accurately places information throughout the home theater. It captures the feeling for various ambiances.
The Warners special edition includes feature length commentary from director Andrew Davis. Also included are two documentaries, a fifteen-minute behind the scenes and a nine-minute short focused The Hero in a New Era. A half dozen additional scenes are also included..


Selections from the Feature Archive include articles on Akira Kurosawa, Blonde Bimbos, Frank Darabont, Steven Culp, John Herzfeld or Vietnam: The Hollywood Pariah, and many more....
Made For Second Billing



The B movie, conceived in poverty and dedicated to the proposition of double features in movie theaters often rose above its limited artistic origins. Click on the B for more.
---
Hitchcock on DVD



Information and review links to Alfred Hitchcock on DVD
---



Everything you wanted to know about animation on DVD. Reviews, news, forum. Webmaster Chris Beveridge.
---


DVDAnswers offers news, reviews and features. Over the coming months, the site will continue continues to grow as they strive to make DVDAnswwers the ultimate DVD website!
---


World class video expert Joe Kane's home on the Internet. Look for details on the new DVD Essentials.
---

Runco home theater products continue to be a force for better imaging. Leaders in high end projectors with a vertical line of display devices.
---


DVD links, information about Web specials, news, Site reviews.
---

Gary Morris's insightful publication Bright Lights Film Journal turns the celluloid in films from a unique perspective. Click on the image above for more pure movie views.
---