China Moon/ B+, B+
MGM/1991/99/ANA 2.35/PS 1.33
While the plot convolutions may be difficult to follow, a seedy reality of characters sucked into a whirlpool of darkness and deception unfolds with panache in the debut directing effort of fine cinematographer John Bailey. This updating of classic forties film noir manages to use beautiful, glossy color without sacrificing the familiar genre atmosphere.
Ed Harris inhabits the character of a small town homicide detective with his usual intelligent acting aplomb. Harris disappears into roles and often goes without due praise owing to this chameleon ease. Kyle Bodine is a smart cop seduced both by a beautiful woman and his own confidence. Madelaine Stowe makes her most stunning screen appearance in China Moon. She is as luminous as fine porcelain. She's not the typical tough noir femme fatale. Rachel Munro is a housewife drawn to desperation by an impossible marriage. Stowe and Harris are dandy together. Their connection produces steam. Harris delivers dialogue with flawless focus and even adds a sense of wonder and love to a line like "My grandmother used to call that a china moon, like a big old plate of china."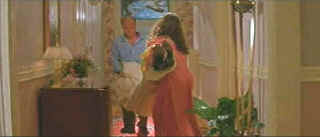 Clean-up time. ©MGM
The opening sets noir tone conventions very nicely with its jazzy score blending in with the flashing police lights. Lots of nice little baiting foreshadowing touches in the dialogue. The heavy rain not only creates an ambiance but also presents an obstacle to keep Bodine from seeing clearly. Bailey keeps the pace and turns of the movie at an even keel. Each section of the film plays itself to perfection and leads logically to the next.
Bailey's skill as a director of photography combines with veteran cinematographer Willy Kurant to produce a very handsome film that succeeds on enmeshing it's audience just as Rachel Munro catches Kyle Bodine in her inadvertently corrupted web. Composer George Fenton delivers a moody jazz score but it falls short of capturing the lurid quality that would perfectly compliment the material. There's some outstanding blues delivered at JJ's the club where Harris first spots Madelaine Stowe.
Excellent looking transfer with deep blacks, nice shadow details, very good contrast balance and a natural range of fleshtones. Color has a fine, subtle range. Even a delicate color like the pale green/blues of the autopsy room appear accurate. Perfect rendering of the fabric on Benecio Del Toro's tweed jacket with perfect stability. Some minor interaction of material on the porch swing which may or may not be DLP related. Slight grain interactivity in pans across the sky. It's tough material. Overall very sharp transfer. Image consistently consistently delivers excellent depth. Color is consistent from scene to scene. Fine rendering of wood tones from Birdseye maple furniture, hardwood oak floor to mahogany cabinetry. Glossy night sequences with very deep blacks. The rain shows up beautifully on the transfer, with a little whitener added for effect. Peak transition ringing is kept to a minimum. Outdoor scenes have a bright feeling of sunlight. Dolby 2 channel surround is quite nicely matrixed. There's an open feeling. The music envelopes the image, dialogue is clear.
China Moon is one of those excellent films that get the short shrift on release, but deserve a loyal audience. Lovers of noir should embrace the film with open arms.
Reviewed on a Sharp 9000VX DLP Projector


Selections from the Feature Archive include articles on Akira Kurosawa, Frank Darabont, Blonde Bimbos, Hollywood Street Gangs, or Vietnam: The Hollywood Pariah, and many more....

Film noir: The phrase hangs awkwardly on the tongue, shadowy images peek out from behind half-closed doors. Click on the Noir and Noir Again symbol for a look into the dark spaces of Hollywood's revisiting of film noir.
---



Agoraquest is offering reviews, forums, news, and more dedicated to Sony products including, televisions, cameras, audio, DVD, and more.
---


Mystery writer Fred Hunter digs into classic films on DVD. Check out his insightful reviews at The Classics on DVD.
---

The Movie Poster Archive include extensive poster images from the films of stars like Susan Hayward, Kirk Douglas, Katharine Hepburn and many more. Our featured star is Robert Mitchum


A heist delivered in simple strokes and sudden fury. Harvey Keitel is relentless.