Charade/A,F
UAV/1963/113m/PS 1.33
Charade is a marvelous film, filled with grand humor and taught suspense. Teaming Cary Grant and Audrey Hepburn is casting genius and director Stanley Donen gets the charming and vivacious performances from his stars.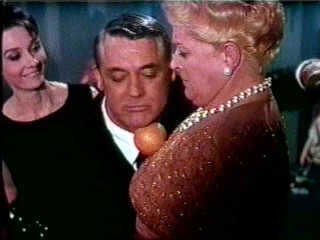 Squeezing the orange.ŠUniversal
Filmed in beautiful Paris locations, Charade is a hunt for money and a reckoning for dark deeds of the past. Hepburn plays a gorgeous innocent swept into the intrigue to recover the ill begotten gains of her murdered husband. The dialogue is crisply penned and impeccably delivered.
The travesty of a transfer is a grave injustice to this great film. It appears to have been sourced from a VHS tape;at least the quality is no better and the faults are exacerbated by cranking of the sharpness control during the transfer. The film is so good that it still captures your attention and though it looks pathetic, I managed to get through the viewing deriving tainted pleasure. The 2-Channel Dolby sound is actually quite clean. Beware of setting your decoder cautiously as some settings may be extremely loud.


Selections from the feature archive include articles on Akira Kurosawa, Frank Darabont, Blonde Bimbos, Hollywood Street Gangs, or Vietnam: The Hollywood Pariah, and many more....
Sturges Emerges


Preston Sturges was Hollywood's resident comic genius for more than a decade. His movies are timeless. Click on his image to read all about it.
---


Direct from the corridors of the Home Theater Forum, Home Theater Talk is the newest place on the Net to discuss everything home theater. Friendly atmosphere and knowledgeable folks are the secret ingredients.
---

Gary Morris's insightful publication Bright Lights Film Journal turns the celluloid in films from a unique perspective. Click on the image above for more pure movie views.
---

.
The Movie Poster Archive includes extensive poster images from the films of stars like Susan Hayward, Kirk Douglas, Katharine Hepburn and many more. Our featured star is Cary Grant.
---