Changing Habits/C,B+
Simitar/1996/92m
A troubled young woman trying to make a success out of a life bred under disturbed circumstances. Heard the story before? Moira Kelly plays the rebellious Soosh, an early twenties would-be artist, who's father is a successful artist and who has lost her mother under suspicious circumstances. Her relationships are all forced and her abrasive behavior is far too boorish. The big twist in Changing Habits is Soosh attempts to save money and insure her independence by finding lodging in a home for wayward women run by an order of nuns. Her run-ins with the nuns are supposed to be hilarious, but they are forced at best. A romance that is sparked by her theft of art supplies is awkwardly scripted. It's simply baffling why the young owner of the store would have any interest in an obnoxious shoplifter. That's show biz I suppose.
Directed by Lynn Roth, the film has a nice look to it, but the script is self limiting. Moira Kelly tries hard too hard as Soosh and Dylan Walsh is overly saccharin as her love interest. Christopher Lloyd sports a different look as her Dad, and Shelly Duvall has a small role as a wide-eyed Sister.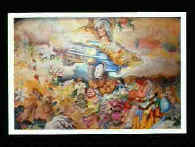 Mural of her life.ŠA-Pix
This is a nice looking transfer from a company that hopefully is feeling its way toward better things in line of DVDs. There is very little grain and colors are bright. Contrast ratio is excellent and blacks are deep and pleasing. The image is sharp and there are no compression artifacts that I detected. Be careful on the sound levels. Start low and work your way up.



DVDPlanet is the DVD incarnation of legendary laser retailer Ken Crane's. Deep discounts and serious service.
---


News, information, features about current films in theaters and in the pipeline. Easy to use interface.
---



The Big Combo has style to spare in reviewing films and producing feature articles. Check out their special "Lingo" section.
---


Derek Germano of The Cinema Laser, a one man whirlwind of reviews, just announced the posting of his 600th DVD review .
---


The Feature Archive has articles ranging from Akira Kurosawa to Blonde Bimbos.


Movie Rage: Death in the Aisles
Everyone knows what it feels like to get angry at the movies these days. Here's a humorous but not so delightful view of big screen misery.