A Couch in New York/ C+, D
Fox Lorber/1997/104/WS 1.85
Here's the set-up. Successful, burnt-out New York psychoanalyst Henry needs a change of scene. He places an ad in the International Herald Tribune for a Paris apartment swap. Flaky but beautiful Beatrice Saulnier spots the ad jumping at the chance for a New York stay. As Henry arrives in Paris, Beatrice arrive sin New York.
Watching Saulnier in New York overpowers Harriston's Paris interlude. The absurd apartment exchange makes virtually no sense. Did it have to be so ridiculous to carry out the plot? Beatrice is a slob beyond reason. It's overdone to the point of undermining the humor.
You can believe Juliette loves the dog. ©Fox Lorber
The film has a slow start but some inspired bits creep up on you. The idea that Harriston can't escape being a psychoanalyst whether on vacation in Paris or seeing patients in New York is sly. It's almost as if he were genetically encrypted with the analyst gene. With Beatrice installed in Harriston apartment/office patients arrive virtually disregarding the change. What's a girl to do? Beatrice finds the solution and the results are entertaining. Some of the resulting psychoanalysis commentary is very funny.
Juliette Binoche positively glows as Beatrice Saulnier. Director Chantal Akerman capture's Binoche's beauty with a caressing lens. Her eyes are amazing. She has a ability with her eyes to make them smile with the subtlest change to display wonderful bemusement. On the other hand, William Hurt looks pretty dried out as Harrison and doesn't do justice to the comedy. He brings his scenes down a peg. It's almost as if he's reciting his lines rather than inhabiting a character. Beatrice's friend Anne played with charm by Stephanie Buttle is a funny character. Harriston's friend Dennis played by Paul Guilfoyle is a poorly constructed character.
Akerman works the farce hard. A Couch in New York is a real walking and talking movie. Walking through Central Park talking, walking the streets talking; Henry and Dennis talking, Beatrice and Anne talking, Henry and Beatrice talking and walking. The Brooklyn segment is almost too colorful; the febrile street activity stems more from the imagination of a French woman, in this case writer/director Ackerman, than reality. It's disappointing that the psychoanalyst's office scenes between Harriston and Saulnier are mostly one shots as opposed to using the wide screen aspect for two shots. I think it fails to make the most of the situation.
More problematic are the insurmountable stumbling blocks of A Couch in New York. What's appealing about Henry Harriston? Is it that he's so needy? Why should Beatrice Saulnier fall in love with him? Saulnier is colossally appealing. She's the earth mother. But in combination with Harriston she's wasted. Too bad. There seems to be nothing to the romance and there are certainly no sparks ignited by Binoche and Hurt as a screen couple.
Despite some very imaginative turns in A Couch in New York, too much of the humor falls as flat as overused upholstery.
A number of soft scenes. Black level is much too high. It required a significant adjustment from my calibrated setting to make the picture watchable. Decent color saturation. There's some jitter from time to time, but what makes the picture a total disaster in some scenes in the lack of 3-2 pulldown encoding. Striped shirts are a mass of quivering worms. Park leaves have celluloid tantrums. Fleshtones are somewhat pasty. Shadow detail is quite weak. Contrast range is limited in a number of the night scenes. Is the film watchable. Yes, it is, but it's disappointing. There's no reason to deliver such a sloppy transfer tot he market place.
Reviewed on a Sharp 9000VX DLP Projector


Selections from the Feature Archive include articles on Akira Kurosawa, Frank Darabont, Blonde Bimbos, Hollywood Street Gangs, or Vietnam: The Hollywood Pariah, and many more....
Puttin on the Ritz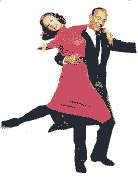 Fred Astaire and Cyd Charisse bring Silk Stockings to life, a remake of Ninotchka, one of many films successfully turned into musicals by the Hollywood dream factory. Read all about remakes into musicals by clicking on the divine dancers.
---

---

The Movie Poster Archive includes extensive poster images from the films of stars like Susan Hayward, Kirk Douglas, Katharine Hepburn and many more. Our featured star is Frank Sinatra.
---


Jou Du/A,B-



A sexy Chinese noir. Bold colors paint stirring emotions in a small provincial town.
---



Mystery writer Fred Hunter digs into classic films on DVD. Check out his insightful reviews at The Classics on DVD.
---

The Cinematheque is a cultural, arts organization that programs year-round specialty film series at the newly renovated, landmark 1922 Egyptian Theatre on Hollywood Boulevard!
---


DVD Demystified makes it all clear. The official Internet DVD FAQ for the rec.video.dvd Usenet newsgroups.
---


You won't want to miss the online iF Magazine. You may have guessed iF stands for independent film.
---