Double Indemnity/A,B
Universal/1948/107m/FS 1.33
Welcome to classic territory. One of the defining films of "noir," Double Indemnity has a clever script and beautiful dialogue from Billy Wilder and Charles Brackett. The set-up is terrific. Hot housewife Phyllis Dietrichson wants to get rid of her older, dull husband. Insurance salesman Walter Neff gets tangled in her web swept up by desire and greed and ultimately finds out that execution of the perfect crime has a way of finding obstacles. Coincidence gives insurance investigator a big helping hand in leading him to sniff out
The actors swim through the murky waters of deceit with concisely perfect strokes. Fred MacMurray gives Walter Neff a coating lascivious slime while Barbara Stanwyck breathes sexual innuendo into every uttered sentence. Edward G. Robinson. It's all a grandly choreographed dance of deceit embellished by the fabulous Miklos Rozsa score and captured in the dark and moody high key photography of John Seitz. literally defining all "noir" to come.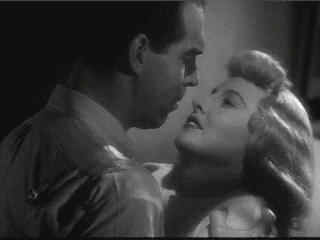 MacMurray and Stanwyck, an irresistible combination.ŠUniversal
This is a clean transfer and compression job from Image/Universal that appears to be a duplicate of the laser elements. There are few if any blemishes. Contrast levels are adequate and all important shadow detail is consistently revealing. The mono soundtrack is a bit thin, but dialogue is crisp.
Check out the Movie Poster Archive for short bios and images of Susan Hayward, Kirk Douglas, Katharine Hepburn and many more. This month's featured star is John Wayne. The Feature Archive has articles ranging from Akira Kurosawa to Blonde Bimbos and John Ford.


Click on the image of The Heistmasters for an interesting feature on the tough guys that pull off the big jobs.
HOT LINKS

etown.com
Venerable Internet Magazine etown.com is making a big growth spurt adding veteran home theater writers to their editorial and review staff. Look for many new hardware reviews in the coming weeks.
Classic Movies
Brad Lang movie site continues to be a great tool for Internet surfers and movie lovers. As usual, he's found some interesting links. Check out the link for a fine Japanese site on Kurosawa films.
Home Theater Reference Reviewing System


When you read a DVD review it's of utmost importance to know what equipment is being used to evaluate quality. Click on the projectors to find out more.