Where the Red Fern Grows/C+,C
UAV/1974/98m
Sincere family fare that emphasizes strong moral values, this film set in the Ozark mountains is too pedantic for adults and too dated for youngsters. There are nice moments as the young boy earns and then trains his hunting dogs, but the film is often like having too much maple syrup with your pancakes.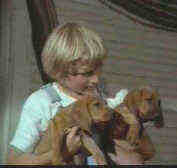 A boy and his dogs. ©
Youngster Stewart Peterson does sincere work as the boy and top-billed James Whitmore has a supporting role as his grandpa.
The mono sound should be judiciously adjusted on your system and leaves a lot to be desired . The picture suffers from soft focus and excess grain. Color is okay and the source material has some dirt and damage.


Selections from the feature archive include articles on Akira Kurosawa, Frank Darabont, Blonde Bimbos, Hollywood Street Gangs, or Vietnam: The Hollywood Pariah, and many more...



Is North by Northwest Hollywood's definitive exploration of the nose? From schnozzles to beezeers, film mavens make the most of the foremost. Click on Mount Hitchcock for more.
---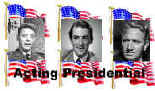 What actor would you vote whose screen persona best exemplified the fabric of the president of the United States? Check act Acting Presidential for a look at the many actors who have coveted The Oval Office.