There's a big leap of faith to be made if one is to enjoy the philosophy of What Dreams May Come. Even given the ability to leap that chasm, the maudlin romance presents a gap too wide for my intellectual or emotional bridge to close.
When Chris Nielsen, an amiable physician, dies in a automobile accident, he arrives in a Heaven like no one I know has ever imagined. While he paints a world through his own imagination, it is incomplete for him without the love of his life. What Dreams May Come turns into Chris's quest to save his lady love. Most of the quest is little more than an excuse for incredible visuals. There's a does of down home philosophy, but it thrown into the pot to add some tension to the saccharine mix. The chief assets of What Dreams May Come are the imagination and production design and the special effects that make it possible for it all to come to vivid realization.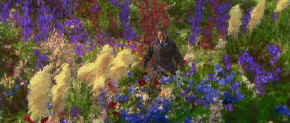 A romp of the imagination.İPolygram
Robin Williams does an adequate job with the material he is given as Chris Nielson. He is asked to travel some syrupy waters and he manages not to get stuck in the muck. But he can't rescue the character from being overly sentimental. Annabella Sciorra is his Annie, the love of his life and the love of his death. She laughs with a throaty enthusiasm, smiles happily and stares into space effectively. But her character is a mere shell and she cannot do much to bring Annie to life in either world depicted in What Dreams May Come. Cuba Gooding, Jr. has a virtually impossible task in finding any solid ground to land his performance as Chris's guide through Heaven.
There is significant edge enhancement in many scenes, yet it does not seem to affect the small details. The picture looks quite clean and the transfer is sharp save for a couple of scenes that go soft. There is also momentary vertical jitter in one scene. The layer change hangs up for a long time, almost as if a fast laser disc player were changing sides. The positive aspects of the DVD transfer and production far outweigh the negatives. Color is intense and exciting. The basic color schemes pop off the screen like candy and the subtler scenes, with bucolic sunsets, have a lovely range. The sound is airy, one could even say Heavenly. Surrounds create a consistent ambience.
What Dreams May Come has been packaged as a first class special edition DVD. Along with a technically informative director's audio commentary, there's an alternate ending that seems to go on forever, a making of featurette, a photo gallery and other requisite special edition bonuses.