The great small British comedies of yesteryear maintained a tradition of innocent larceny. Happily, Waking Ned Devine harks back to that giddy tradition. Add a touch of local blarney natural to the tiny Irish village where the movie is set and get ready for a delightful romp through a comic landscape.
The eccentrics are led by Jackie Shaw, an aging gent with a plan to pad his retirement with lottery dollars. Jackieís got the gift of gab and he convinces his fellow villagers that you donít need a Leprechaun to find his version of the Irish pot of gold. Of course, there are complications and they pile on one after the other. Itís all or no one if Jackieís plans are to succeed, and itís up to Jackie to convince each villager of the need for cooperation. Itís up to Michael OíSullivan to convince the lottery representatives that heís entitled to the big check. Jackieís gaunt buddy makes up for a lack of confidence with loyalty to Jackie and the plan. You wonít likely forget Michaelís mighty funny motorcycle ride, but itís Jackie that keeps everything going with non-stop delight.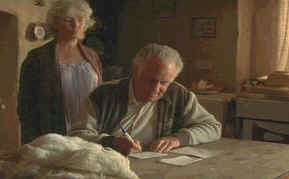 Jackie signs them up. ©Fox
Waking Ned Devine stars Ian Bannen as a man with the gift, a vision pure of heart and lined with the dream of all men in small villages everywhere, hitting the lottery. It's fitting that Bannen gets his best role in years as Jackie Shaw since he comes right out of those great Ealing comedies of the fifties with his debut film, Private's Progress. Bannen plays Jackie Shaw with a warm smile and a characteristic light in his eyes that charms his fellow players and audiences alike. David Kelly is a brave Michael OíSullivan, giving his all for the production. The smaller roles feel like they were plucked from a small Irish village.
Kirk Jones gets his debut writing and directing credits on Waking Ned Devine. Where did this guy come from? Letís hope he keeps up the terrific work and finds another project to provide audiences with some old fashioned joy.
Waking Ned Devine is beauty of a small movie turned into a lovely DVD. The images grace the screen with ease and accuracy, sharp enough to look through the larceny and see the genuine good nature of this spirited folk comedy. The village colors and seaside feeling is maintained in varied lighting circumstances. Intimate interiors have a nice light balance and contrast is excellent throughout the movie. The charming score is well served by the Dolby Digital 2-channel audio. The accented dialog is easy to understand.