Universal Soldier/C+,B+
Live/1992/102m/WS 1.85
Don't expect intricate story-telling in this action flick created to put together two screen fighting icons, Jean-Claude Van Damme and Dolph Lungren. They get to take some ferocious kicks at each other in a relentless chase that serves as satisfactory platform to effectively stage the fights. Former Army veterans, both fighters have been preserved on ice as part of a government program that transforms mere men of flesh into invincible "fighting" machines. There's a simplistic prelude set in a jungle a long time ago and far away that effectively defines motivation and character for both stars and then it's off and running, with only a brief stop for some diner food.
Most of the scenes are shot in dim light with a bluish cast. There are explosions galore and mucho fire power. Van Damme hooks up with a gal reporter who stumbles into the hush-hush project and together they flee the long arm of corrupt government. Their relationship plays mostly for laughs, thankfully. Van Damme maintains a mantle of innocence about his character while Dolph Lungren is straight ahead killing machine
.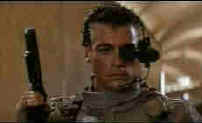 Van Damme in actionİLive
The DVD transfer handles much of the difficult lighting with a sure touch. Shadow detail is excellent and contrast range is tightly controlled for the best picture. Offering widescreen 1.85 only, the image is perhaps a mite too sharp resulting in edge enhancement artifacts. The 5:1 soundtrack powerfully accompanies the action set pieces.
The Feature Archive has articles ranging from John Ford to Blonde Bimbos, The Heistmasters, Akira Kurosawa and Frank Darabont.



Click on the image above to learn more about the effect of an actor's voice on his screen persona.

Check out the Movie Poster Archive for short bios and images of Susan Hayward, Kirk Douglas, Katharine Hepburn and many more. This month's featured star is Cary Grant
Imaging Science Foundation


The Imaging Science Foundation promotes proper standards in home theater viewing. ISF trained technicians offer monitor calibration services to consumers. The difference in a properly calibrated monitor can be astounding. Click on the image to find an ISF member near you.
HOT LINKS
DVD Verdict
They may be judgmental, but that's the point, isn't it. Lots of DVD reviews plus news and more
The Home Theater Forum
Looking for lively and helpful exchanges on home theater, DVD, movies. Visit this friendly site and get a hardy welcome.
Home Theater Reference Reviewing System



When you read a DVD review it's of utmost importance to know what equipment is being used to evaluate quality. Click on the projector to find out more.