U-Turn/C-,B+
Columbia/1997/125m/WS,ANA 1.85,PS 1.33
Oliver Stone's turns his new, hyper-kinetic style of filmmaking to the noir genre and the result is a muddled affair that only looks the more affected by the stylized photographic treatment. Perhaps Stone is looking for a comic edge to the material, but there simply are no laughs, just eccentric and strained characterizations.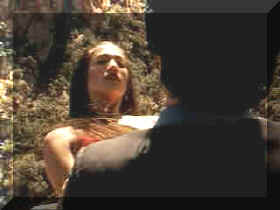 Hang on Bobby. ©Columbia
Sean Penn is low life drifter Bobby Cooper who pulls into Superior, Arizona, a dead-end desert town, when his car breaks down. Cooper begins by antagonizing the garage mechanic and gets appropriate service from the creepiest guy with a wrench you'll ever run into. Next case, Cooper picks up a local hot number and promptly gets caught in the wrong place by her husband. Shades of The Postman Always Rings Twice, and then he hangs out on Main Street with a blind, drunken Indian mystic who apparently is on hand to comment on the action, but doesn't do much of anything. All the elements come crashing together in preposterous fashion. Stone's noir mine is played out and played with too much.
Along with Penn who loves these eccentric roles is the very sensual Jennifer Lopez. Her presence generates plenty of heat, but the plotting leaves it no where to go but over a cliff. Nick Nolte looks and sounds more like Tom Waits than Nick Nolte and he joins the cast in dancing out of tune to Stone's twisted vision. Billy Bob Thornton and Jon Voight round out the cast as the mechanic and the Indian with some broad thespian turns.
Aside from some minor grain, U-Turn is a far better DVD than it is a movie. Images are sharp, night scenes are sweet velvet black, and the colors are accurate. The soundtrack is dynamic and aggressive.