Thin Red Line,The/B-,A
Fox/1998/170m/ANA 2.35
Beautiful photography cannot make up for a thin dramatic line. That's the crux of the problem for The Thin Red Line, director Terrence Malick's long awaited come-back film. The dramatic line wavers and disappears into the mist of overblown poetry. Malick undermines the power of battle with arty, confused storytelling. Half the time, I couldn't follow what was happening when and whether it was real or not.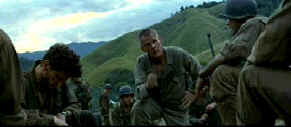 Colonel Tall barks out orders. ©Fox

Following a battle weary troop in the heat of battle is a time honored war movie convention. Under the strain of unremitting battle, strong men crack. By focusing on individuals, the mental explosions can often overpower the barrage of bullets and bombs. Some characters crack, some rise to the situation. The Thin Red Line follows this simple war line, but twists and turns it into an unrecognizable pattern. Many elements of the script do not ring true, and this is of the utmost importance when capturing an audience in a film rife with realism.
Set on Guadalcanal as US forces are trying to turn the tide of the war, The Thin Red Line is one ambling and bloody walk up the hill of battle. An all-star cast cannot inject any excitement into what should have been a stirring war epic.
Casting James Caviezel and Ben Chaplin in two main roles appears as a major mistake to me. The actors look so much alike, it makes the confused storytelling even more difficult to follow. I can only think that Malick made a very conscious choice to do this, almost making the two soldiers different aspects of the same characters. More confusion for me even as I write. Colonel Tall, appears to belong more to the tradition of Apocalypse Now than to any heritage of the World War II film. Nolte's raving performance seems far too over the top

. Others in the cast are solid, but are given little room to shine. Sean Penn, John Cusack, George Clooney, and Elias Koteas, all do fine work.
The cinematography of John Toll is superb. Yes, visually, The Thin Red Line delivers all you could want and then some. The score by Hans Zimmer is powerful, but Malick's direction is far too languid. It's almost as if he's been transfixed by the film battle and suffers from film stock shock.


The DVD is quite beautiful. It does justice to the magnificent visualizations of Malick. Depth of image is remarkable and color vitality stunning. The Thin Red Line is a consistently sharp DVD, with no gnawing artifacts to stand in the way of enjoying the great images. The Dolby Digital 5:1 surround is aggressive and accurate locates mortar and bullet. The exquisite recording of the Melanisian Songs on the soundtrack is offered as a bonus feature as well. The air surrounding the voices is ethereal.
The Feature Archive has articles ranging from John Ford to Blonde Bimbos, The Heistmasters, Akira Kurosawa and Frank Darabont.



Preston Sturges was Hollywood's resident comic genius for more than a decade. His movies are timeless. Click on his image to read all about it.

Check out the Movie Poster Archive for short bios and images of Susan Hayward, Kirk Douglas, Katharine Hepburn and many more. This month's featured star is Clark Gable.

]Imaging Science Foundation


The Imaging Science Foundation promotes proper standards in home theater viewing. ISF trained technicians offer monitor calibration services to consumers. The difference in a properly calibrated monitor can be astounding. Click on the image to find an ISF member near you.
HOT LINKS
DVD Verdict
They may be judgmental, but that's the point, isn't it. Lots of DVD reviews plus news and more
The Home Theater Forum
Looking for lively and helpful exchanges on home theater, DVD, movies. Visit this friendly site and get a hardy welcome.
Home Theater Reference Reviewing System

When you read a DVD review it's of utmost importance to know what equipment is being used to evaluate quality. Click on the projectors to find out more.