Sweet Talker/B,C+
Pioneer/1991/86m/FS 1.33
Sweet Talker is amiable entertainment. It sets it sights on a modest target and hits the bull's eye. Bryan Brown stars as con-man Harry Reynolds in this clever conceit from Down Under. Recently released from a stint in prison with an older con, Cec, played with his usual spunk Aussie mainstay Bill Kerr, Harry pilfers Cec's "scheme of the century" before jovially sauntering out of prison and on to the con at the quaint but dilapidated seaside village of Beachport.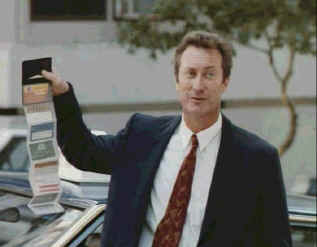 Harry's on the looseİPioneer
At Beachport Harry boards with divorcee Julie and her son David. Karen Allen is charming and appealingly energetic as Julie, providing Harry with some love to get in the way of the con. Harry's bonds quickly with David, gets the lowdown on the village from him, and spends plenty of quality time spinning tales and catching fish with the savvy ten year old boy.
The scheme may be lightweight, but the execution is consistently brisk. Harry has everybody and their uncle looking to invest in the raising of a long lost Portuguese treasre ship. With the uncovering of the ship, Harry's vision includes a rebirth of Beachport as resort, a Disney World of the South Seas.
Bryan Brown is a cunning Harry. There's excellent chemistry amongst all the players. Justin Rosniak is fine as David and the supporting characters of Beachport add to the joy of the film. It looks like this was a delightful production for all concerned.
Mixing with the colorfully photographed landscapes of the seaside by Russell Boyd to present an upbeat picture of Beachport is the fine original score by Richard Thompson. The Australian flavor is evident from the opening bars and there are several excellent songs including the very appropriate "Put Your Trust in Me."
The DVD is presented in 1.33 format. It's quite possible that it has been cropped from a 1.66 master but it does not looked overly cramped. The images are reasonably sharp, though there is a tendency for the contrast to look slightly blown out. Colors are okay. I didn't notice any enhancement artifacts. The sound is a nice Dolby 2 channel matrixed mix. The music has all the required snap. Beachport through the lens of Sweet Talker makes for some delightful summer entertainment.
Check out the Movie Poster Archive for short bios and images of Susan Hayward, Kirk Douglas, Katharine Hepburn and many more. This month's featured star is John Wayne. The Feature Archive has articles ranging from Akira Kurosawa to Blonde Bimbos and John Ford.



Click on the image of The Heistmasters for an interesting feature on the tough guys that pull off the big jobs.
HOT LINKS

etown.com
Venerable Internet Magazine etown.com is making a big growth spurt adding veteran home theater writers to their editorial and review staff. Look for many new hardware reviews in the coming weeks.
Classic Movies
Brad Lang movie site continues to be a great tool for Internet surfers and movie lovers. As usual, he's found some interesting links. Check out the link for a fine Japanese site on Kurosawa films.
Home Theater Reference Reviewing System


When you read a DVD review it's of utmost importance to know what equipment is being used to evaluate quality. Click on the projectors to find out more.