Supercop/B,B+
Buena Vista/1992/125m/WS 2.35
Originally titled Police Story III in Hong Kong , the dubbed version of the film released by Disney is called Supercop. Jackie Chan stars again as Hong Kong cop Kevin, who alternately charms and kicks his way through the underworld as a champion for justice.
This time out Supercop Kevin is goes to mainland China undercover to infiltrate a drug ring. Kevin's introduction to mainland martial arts is a delightful sequence, capitalizing on Chan's humor and athletic skills in equal doses. From this brisk opening, the action continues to intensify right up to its stunt-studded conclusion in Kuala Lumpur.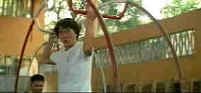 Another stunt another movie. ęDisney
In this Chan effort, co-star Maggie Cheung has less to do than in previous Police Story flicks. Action star Michelle Yeoh joins the team with her high style of kicking and pirouettes as Kevin's mainland counterpart. The actor's have a good time going through the paces and performing the stunts. Once again, the final credits provide a glimpse into the reality of the arduous stunts with a number of out-takes. Wipe that blood off Jackie.
The elements for the Supercop DVD are in excellent condition and that translates to a sharp DVD with bright colors and consistent levels of contrast. The Dolby Digital 5:1 tracks have plenty of punch and the dubbing is quite good.