Simon Birch pulls at the heart strings. It makes no qualms about that, yet the film is never maudlin, because the characters are fully developed.
Movies with physically deformed characters at their center often fail because of short cuts. The source material for Simon Birch is John Irving's novel A Prayer for Owen Meany and Irving has a unique sensibility toward outsiders. Hence, through a fine adaptation by writer and director Mark Steven Johnson, Simon remains an honest character with a sense of humor about his diminutive size and a spiritual heart many times the size of his real one.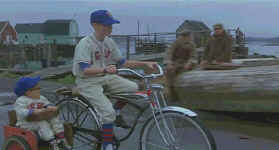 Joe and sidekick Simon©Hollywood
There are a few moments that I felt too manipulated by the filmmaker. While I could watch Ashley Judd in slow motion endlessly, I would have rather seen a particular scene in real time. I am not really sure about some of the easy pot shots taken at a couple of characters, but I can live with it. It does make it easier for kids to appreciate the black and white world.
There's an adventure movie at the heart of Simon Birch, a spiritual adventure, but the great focus is on what faith means to different people. Seen through the eyes of two twelve year old kids, each trying to understand their origins and the meaning of their lives, the film remains true tot he world it sets up.
Ian Michael Smith is nothing short of fantastic as Simon Birch. I believe every word this kid utters. There's no artifice in this performance. I've gotta believe this young actor is digging deep into himself to help define the humanity of Simon Birch. Joseph Mazzello is one of my favorite kid actors working. He presents a screen sweetness that makes his characters very winsome. Hell, I can even believe this is the kid that grows up to be Jim Carrey, as portrayed in the film. Ashley Judd….Ashley Judd, I can't pass up the opportunity to say the name twice. This luminous actress lights up any scene she's in, matching inner strength with kindness to create a series of strong feminine characters. Oliver adds sensitive support for the young actors as an understanding adult.
Marc Shaiman's score and the photography of Aaron Schneider compliment the storytelling of Mark Steven Johnson. This is a first rate effort all around. A fine film for adults and a wonderful film for kids too.
An outstanding transfer with sharp images and on target color. Subtle lighting tones are preserved with great care on this transfer. I felt I could look through the eyes of the actors into their inner selves aided by the striking transfer and the fine performances. The 5:1 surround sound is absolutely beautiful. Ambient details hang suspended in the air in the home theater environment.