Seven Years in Tibet/B-/A
Columbia/1997/125m/WS,ANA 2.35
The chief virtue of Seven Years in Tibet is the scope of the film and the magnificent photography. Director Jean-Jacques Annaud has traveled snow covered mountains before with the IMAX presentation, Wings of Courage. That seems like it was practice run for the perfection of the snow work here. I think the personal journeys are less successful and the film cannot recover from so severe a flaw. Heinrich Harrer, the would-be hero of the piece, is too flawed and there never seems a reason for him to change. It's almost as if the filmmakers depended on Brad Pitt's good looks to make him sympathetic. It just doesn't seem to work.
Harrer, climbing under the Nazi flag, joins a Himalayan mountain expedition. The mountaineer's arrogance makes itself immediately apparent and his lack of team work threatens the success of the arduous climb. But his skill overcomes his personality flaws and while the team winds up in a British prison when World War II breaks out, they make a daring escape and flee through the mountains winding up in the legendary city of Tibet's Dalai Lama, Lhasa.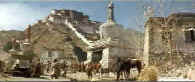 Approaching legendary Lhasa. ©Columbia
Pitt plays Harrer with Austrian ascent that's acceptable, but his performance lacks nuance. If the character is really supposed to change, we never sense it from the performance, only from the text, and that's not enough. Playing alongside Pitt, David Thewlis is as solid as the Lhasa foundations playing mountain climber Peter Aufschnaiter. The casting of the key Tibetan characters is very special. Jamyang and Sonam Wangchuk, brothers and sons of a Bhutan diplomat, with no acting experience, play the young Dalai Lama at various ages. And the Dalai Lama's sister, Jetsun Pema, plays his mother in the film. Lhakpa Tsamchoe, who works for the Tibet Youth Congress, brings a beautiful innocence to the role of the woman who befriends the two foreigners and marries Aufschnaiter.
Shot entirely on location in the Andes Mountains since the filmmakers failed to obtain permission to film in Tibet or India, judicious use of matte shots make it hard to believe the locale is not in fact Lhasa. Annaud spent 1994 and 1995 traveling around and in Tibet with his wife Laurence and took almost 17,000 photographs of the real city of Lhasa and its people and environs on which the production design is based. Talk about passion! The production design and cinematography as well as the obvious passion of director Annaud are the real highlights of this film.
Happily, this is gorgeous DVD. It is so very filmlike, effortlessly depicting the vast expanses of snow or the colorfully dressed Tibetans. Detail is immaculate, color perfectly pure. The explosive war sequences with varying lighting have perfect contrast. John Williams' lush score is airy and dynamic.