Say Anything (SE)/ B+,B
Fox/1989/100/ANA 1.85
Chief amongst the joys of Say Anything is the wonderfully sensitive, extraordinarily charming performance of John Cusack as Lloyd Dobler, a high school everyman for anytime. He's a free-spirit, but not entirely a flake; a young man searching for his identity, growing up, coming of age, and true to his generous spirit. Director Cameron Crowe does a great job win his directing debut. He finds a way to play Say Anything in a very natural way. It's a clean treatment of teens coming of age, and you have to appreciate the lack of affectation.
One of the things that marks a Cameron Crowe film is an obvious affection for his characters. He presents the characters and tries to give them the better part of the bargain, so to speak. Say Anything is a very satisfying movie, an entertaining movie, a movie that has an honest core and tries to understand the issues that young people face at those milestone moments in their lives.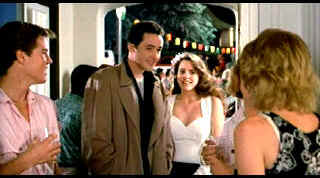 Running with the keymaster. ©Fox
Crowe as scriptwriter is the director's best friend. He delivers an unsentimental work. He could easily have caved to typical feel-good treatment, but he chooses, bravely and sagely, to make it an accurate portrayal of young love and that everlasting search for identity. Dobler represents the character who is not really a special talented human being, but he's just a nice guy, and he's a nice guy from his core. He not a nice guy to get things, he has no ulterior motives; he's a nice guy because that's the way he is. He's the unsung hero of all these youth films. There are numerous special moments in Say Anything. The dinner table scene when Lloyd Dobler is asked what he wants to do with his life and the uncertainty of his response and the short-term outlook are wonderfully true to life. Hell, what does a seventeen or eighteen-year-old-kid know about life; he needs more experience to know where he's going to go. Those of us that think we know where we want to go, sometimes we get locked into the wrong places. Dopler standing up to Mr. Court is another outstanding scene. The main characters are very well drawn. Court's a very interesting character who provides a number of surprises and levels to the film. And Crowe's view of Court is complex and not judgmental. And it's complex in it's view of Court. If anything is a little bit too cute it's probably Dobler's relationship with his girl buddies. That plays strained at times, but it is acceptable.
Cusack gets fine support from Ione Skye as Diane Court, the girl that makes his heart sputter and stop in awe. Skye's a strong presence. John Mahoney, the terrific character actor who plays her father bonds beautifully with Skye. Cusack and Skye have equally fine screen chemistry.
The transfer is okay. It's mostly sharp, perhaps not as sharp as it might have been. Colors are slightly desaturated; I don't remember it in the theaters, but it does look like it could have had more intensity. Contrast range is a little pinched. Some of the backgrounds are kind of blend in a little bit to the foreground depriving the picture of some depth. Skintones are slightly pasty and lack subtlety of shade. Black levels are good, shadow detail is fine. The Dolby 2.0 surround sound is well-matrixed and the music, always important in a Cameron Crowe film, plays very well with good bass beat.
A loaded special edition featuring commentary by director Cameron Crowe and stars John Cusack and Ione Skye, Say Anything also has 10 deleted scenes, 13 extended scenes, 5 alternate scenes and a featurette. There's everything you ever wanted to know about Lloyd Dobler and more.


Selections from the Feature Archive include articles on Akira Kurosawa, Frank Darabont, Blonde Bimbos, Hollywood Street Gangs, or Vietnam: The Hollywood Pariah, and many more....
Sophia mi Amore


Sophia mi Amore: That's what I thought the first time I saw one of the screen's sexiest women in Boy on a Dolphin. Maybe not in those words, but you get the idea. For a look a Sophia's career from one perspective, click on her image. Includes a selection of posters from her movies.
---



Timely DVD reviews and an easy-to-use interface. Weekly contests.
---

Lovers of Hong Kong movies will relish MC4's site that includes reviews and other information about the Hong Kong movie scene.
---


DVDinsider is a daily email publication targeting the DVD Industry Professional. The publication includes current news, events, stock prices and more.
---


An on-line Home Theater magazine with excellent hardware reviews, including thorough and responsible research. Check it out.
---


A self-proclaimed bastion of irreverence place where Joe Public smacks the heck out of the studio execs.
---

Click on the DVD MIA symbol for profiles of DVDs missing in action.
Add films to the DVD MIA Master List by filling out a simple form. Click Here
---


Runaway Train/B+,B



From an Akira Kurosawa screenplay. Jon Voight is fantastic as fierce habitual criminal Oscar "Manny" Mannheim. A smile to remember with ferocious non-stop action.