Saboteur (SE)/B+,B+
Universal/1942/109/FS1.33/BW
Saboteur is one of Alfred Hitchcock's most accessible films. A likeable "wrong man" protagonist is the keys the easy going action. Robert Cummings plays hero Bruce Kane as nice ordinary guy. Cummings is a surprisingly credible hero and a warm romantic lead. Saboteur is clearly a reworking of Hitchcock's British classic The 39 Steps. The plotting is similar, even the scenes have a distinct similarity. The reworking a wonderful and Hitchcock enjoys dressing up his old film in new American clothes. Hitchcock makes it all look easy in Saboteur.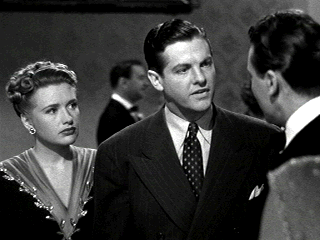 Could you please stop snapping your fingers! ŠUniversal
Adding spice to the cross country chase are a diverse assortment of bad guys, all molded as rather ordinary men. Hitchcock enriches the plot with the conversational details of these dangerous characters. Freeman talks about his childhood with innocent wonder, Tobin dotes on his baby granddaughter, another man wonders when he can get away to take his wife to the Philharmonic. A short detour at a circus caravan is simply wonderful. The New York setting for the frantic wrap up is terrific. From the Brooklyn Navy Yard to the Statue of Liberty, Kane and Martin pursue the spies. The wonderful climax of Saboteur on Lady Liberty is vintage Hitchcock. Priscilla Lane is charming as Patricia Martin. She looks like a wholesome billboard girl. Lane's no heavyweight actress, but the Hitchcock gets what he expects from Lane's all-American presence. Smooth Otto Krueger plays Charles Tobin, the rich man with a hunger for power. Krueger spreads a sinister smile with rare relish. Alan Baxter as Freeman looks more like a petty bureaucrat than a Nazi spy. With the ordinary appearance of these fifth column characters Hitchcock sends a subtle warning to his war time audience.
Very well preserved elements make it possible to deliver an excellent DVD presentation. Strong contrast makes for stunning black and white images. Deep, luscious blacks are not compressed and reveal detail clearly. The strong contrast range makes it possible to give Saboteur the look of a glossy photograph. It's very becoming to the material. There are a few patches of dirt, but they are never intrusive. The Dolby Digital 2 channel mono sound is thin but clear.
Norman Lloyd, who played the actual saboteur of the title, provides some insights into Hitch and making Saboteur on the half hour documentary. Production designer Robert Boyle, who honed his skills with Hitch, also shares his memories of the pleasures and chores of production. Pat Hitchcock O'Connell adds fond remembrances.


Selections from the Feature Archive include articles on Akira Kurosawa, Frank Darabont, Blonde Bimbos, Hollywood Street Gangs, or Vietnam: The Hollywood Pariah, and many more....




Is North by Northwest Hollywood's definitive exploration of the nose? From schnozzles to beezeers, film mavens make the most of the foremost. Click on Mount Hitchcock for more.
---


Have you visited Home Theater Talk lately? One of the friendliest places on the Net for Home Theater and DVD discussion, you can get help for installation problems or simply share your opinions with other Vidiots.
---

Images is a non-commercial Web site created for everyone who enjoys movies and popular culture. Images is published quarterly; however, new reviews will appear each week, so check back often.
---


Home of The American Film Institute.
---

A great place for movie lovers and techies to visit for exchange of ideas. New speedy interface is an inspiration for more dialogue. Home of Robert( Obi) George's DVD reviews.

---


The Adventures of Baron Munchhausen/A,A-


Director Terry Gilliam's richly detailed interpretation of the outlandishly imagined and fabricated exploits of the legendary eighteenth-century German adventurer and storyteller.
---