Runaway Bride(SE)/C,A-
Paramount/1999/143m/WS 1.85
Don't run out to get a copy of Runaway Bride. You might be very disappointed if the successful pairing of Richard Gere and Julia Roberts in Pretty Woman sucks you in, because this concept film is little more than an excuse to reunite the pair to box office success.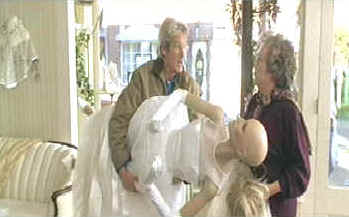 Gere takes things in his own hands. ©Paramount
Runaway Bride is not funny, that's pretty evident, but what makes it go so far awry. Part of the problem is the set-up. Hale is an innocuous setting and Maggie Carpenter is blank character, other than her bridal habits. At least in Pretty Woman the setting and character had some pizzazz. Julia Roberts . Gere's Ike Graham, the big city columnist, tries to act New York in the city scenes, but he never seems honest. The script is the villain. It smells of exploitation. It's ironic, sense in some ways the main thrust of the script is about exploitation by the press.
A lot of talent is wasted in this limp comic effort. Actors like Joan Cusack and Rita Wilson who usually light up films with their comic style are given little to light up the screen with. Cusack, near the end, lets out a couple of screams that make you think she already saw the final cut of Runaway Bride. Even the usually cool Hector Elizonado, a Marshall regular trooper, seems totally at sea in Runaway Bride.
The funniest line in Runaway Bride belongs to Garry Marshall in the audio commentary. He smilingly claims to have suggested the production sell advertising space on Julia Roberts' teeth, but she declined. Marshall points out his entire clan in playing peripheral roles, declares that "hick" is a description of the past, and acknowledges throwing a bouquet of flowers with any accuracy calls for lots of takes.
Shot by Stuart Drysburgh, the film is thoroughly upbeat and high-gloss.
The Feature Archive has articles ranging from John Ford to Blonde Bimbos, The Heistmasters, Akira Kurosawa and Frank Darabont.



Preston Sturges was Hollywood's resident comic genius for more than a decade. His movies are timeless. Click on his image to read all about it.

Check out the Movie Poster Archive for short bios and images of Susan Hayward, Kirk Douglas, Katharine Hepburn and many more. This month's featured star is Clark Gable.

]Imaging Science Foundation


The Imaging Science Foundation promotes proper standards in home theater viewing. ISF trained technicians offer monitor calibration services to consumers. The difference in a properly calibrated monitor can be astounding. Click on the image to find an ISF member near you.
HOT LINKS
DVD Verdict
They may be judgmental, but that's the point, isn't it. Lots of DVD reviews plus news and more
The Home Theater Forum
Looking for lively and helpful exchanges on home theater, DVD, movies. Visit this friendly site and get a hardy welcome.
Home Theater Reference Reviewing System



When you read a DVD review it's of utmost importance to know what equipment is being used to evaluate quality. Click on the projector to find out more.