Rollerball/B+,B
MGM-UA/1975/125m
Rollerball is an international sport sponsored by corporations bent on deflecting criticism of themselves through this modern day gladiatorial combat created for the lust of the masses. Jonathan E. is the greatest player in the game and as he is asked to step down from the team by the corporate head, he begins to question the realities of the sport. In determining to take down Jonathan, the corporate structure itself might ultimately become threatened in this interesting and in some ways prescient vision of the future where corporations run society.
James Caan is the rugged Jonathan E., fierce on his Rollerball skates and determined to survive, in and out of the rink. Caan brings an interesting combination of innocence and ferocity to the role. John Houseman is the head of the corporation. The veteran actor's clipped diction and cold delivery are well tuned for this role. Production design is very handsome and conveys a vision of the future by subtle architectural embellishment. But it is the action in the rink, director Norman Jewison's violent vision, that dominates Rollerball.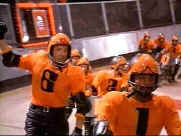 Caan's the one!.MGM.-UA
Rollerball is presented on DVD as a special edition, including an audio comment- ary by director Jewison and an old behind the scenes featurette. There's also a nice "Rollerball" game puzzle to check your pictorial story continuity acuity. Jewison's commentary is sincere but doesn't go into enough depth. The anamorphic transfer is good. Films elements are clean. There is some excess of film grain and colors seem slightly dimmed by time
The Feature Archive has articles ranging from A Western is a Western is a Western to Screen Voices, The Heistmasters, Akira Kurosawa, film preservationist Robert Harris and Shawshank Redemption director Frank Darabont.



Film Preservationist Robert Harris talks to Films on Disc. Click on the image to learn more.

Check out the Movie Poster Archive for short bios and images of Susan Hayward, Kirk Douglas, Katharine Hepburn and many more. This month's featured star is Clark Gable.
Imaging Science Foundation


The Imaging Science Foundation promotes proper standards in home theater viewing. ISF trained technicians offer monitor calibration services to consumers. The difference in a properly calibrated monitor can be astounding. Click on the image to find an ISF member near you.
HOT LINKS
Fade-In Magazine
Did you like Scream, the energetic youthful take on the horror genre written by newcomer Kevin Williamson? Fade-Inís interview with the young filmmaker is currently online for your enjoyment.
Widescreen Movie Center
An excellent resource for original aspect ratios of widescreen movies. Seems to be primarily if not exclusively for anamorphic films.
Home Theater Reference Reviewing System


When you read a DVD review it's of utmost importance to know what equipment is being used to evaluate quality. Click on the projectors to find out more.