Rob Roy/B+,B+
MGM-UA/1995/139 minutes
Liam Neeson stars in this elegant screen tale about the legendary highland hero. There is no doubt about the actor's stature or his ability to command the screen. Rob Roy is an outstanding role for him and under director Michael Caton-Jones' guidance, the film achieves a unique style.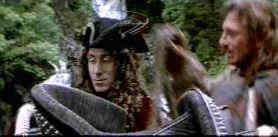 A noose of necessity. ãMGM-UA
The fights are limited and the battles small scale. Rob Roy is a character driven film, and in that department it is indeed rich. Complimenting Neeson is Jessica Lange as Mary MacGregor, his strong-willed wife. The chancellors of evil are truly extraordinary in Rob Roy. Tim Roth makes the devious, despicable Archie memorable, while John Hurt is splendidly imperious as the Marquis of Montrose. Carter Burwell's music captures the raw power of the the landscape and photography by Karl Walter Lindenlaub finds its way perfectly through the mists and crags of the hills of Scotland.
Though the misty landscapes are problematic to video transfers, this DVD fares very well. Images are relatively sharp and colors are faithful to the the original film. The surround sound is exciting with the music especially appealing.



DVDPlanet is the DVD incarnation of legendary laser retailer Ken Crane's. Deep discounts and serious service.
---


News, information, features about current films in theaters and in the pipeline. Easy to use interface.
---



The Big Combo has style to spare in reviewing films and producing feature articles. Check out their special "Lingo" section.
---


Derek Germano of The Cinema Laser, a one man whirlwind of reviews, just announced the posting of his 600th DVD review .
---


The Feature Archive has articles ranging from Akira Kurosawa to Blonde Bimbos.


Movie Rage: Death in the Aisles
Everyone knows what it feels like to get angry at the movies these days. Here's a humorous but not so delightful view of big screen misery.