Return to Paradise/C,B
Polygram/1998/112m/ANA 2.35, PS 1.33
The title Return to Paradise suggests a romance soaked in sun and sand. The reality is altogether different and there's no hint of paradise. This is a bleak and bland production. The characters never live up to the realities built on screen. In fact, it's even difficult to sympathize with anyone in this movie.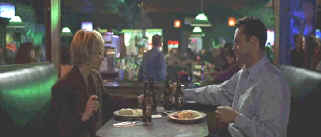 Heche work the feminine wilesİPolygram
Trouble crops up for a trio of friends frolicking in Malaysia for an extended high. When two of them leave the country, the third is caught with too much hashish to be deemed a user by the Malaysian courts and is put in prison, under some pretty miserable circumstances you can be sure. After serving close to two years in prison, the courts have decided that he should be hanged for this crime unless his friends return to share the sentence burden.
The big question Return to Paradise seeks to answer is how far you would go to save a friend. As laid out in this plodding story the question really is how stupid can you be. Characters making life decisions need clear establishment for motivation. Everything we see and learn about these characters is contrary to the way they act in the film.
Not much is made of the contrast between the New York and Malaysia locations. There is no sense of place to suggest that people will act differently under different skies. Director Joseph Ruben who has proven he knows his way around thrillers fails to ignite a fire under this story or his actors. Anne Heche is the lawyer who through force of will tries to convince the young men to return to Malaysia to face the music. Heche has a difficult time making Beth Eastern a convincing character. There are too many repetitive scenes and she doesn't find an original way to address them. Vince Vaughn lacks power as Sheriff. Perhaps the character calls for him to sleep walk through much of the role. Joaquin Phoenix is wonderfully distraught as Lewis.
The movie is dark and moody by design with slight softening of the image and this is faithfully transferred to DVD. Still, the many dimly lit scenes don't make for great home theater viewing. Colors are well saturated in the daylight scenes and the gloss of the big city is captured adequately at night. The Dolby Digital 5:1 surround sound is not aggressive. The music uses the surrounds freely, but there are few other apparent effects.
Home Theater Reference System
Laser discs and DVDs are evaluated on the following current home theater equipment: Stewart 6' x 11' Videomatte 1.33 Gain Screen, 2 Runco 980 Ultra Projectors stacked, Faroudja LD100 Line Doubler, Lexicon DC1 Surround Processor/Switcher, 2 Pioneer Elite CLD-97 Laser Disc Players with AC-3 Modification, Sony 7000 DVD Player, Toshiba SD-3006 DVD Player, Total Media Systems Reference Home Theater Suite, LR Fronts, Center, LR Sides, LR Rears, 2 Velodyne F1500R Subwoofers, Sunfire Cinema Grand5 Channel Amp, Sunfire 2 Channel Amp, Lexicon RF Demodulator, Lexicon T-500 System Remote Control, Speaker Wire and Interconnects by Straight Wire.
HOT LINKS

The American Widescreen Museum
The wealth of information about widescreen movies is presented in a intelligent and easy to understand interface. Color in movies is given a similar treatment.

Robert Harris is part of the dynamic duo that restored Lawrence of Arabia, Spartacus, My Fair Lady and Vertigo. Harris rides a white horse into the battle to preserve our film legacy. Click on the image to read more.
Check out the Movie Poster Archive for short bios and images of Susan Hayward, Kirk Douglas, Katharine Hepburn and many more. This month's featured star is John Wayne. The Feature Archive has articles ranging from Akira Kurosawa to Blonde Bimbos and John Ford.



Click on the image of The Heistmasters for an interesting feature on the tough guys that pull off the big jobs.