Raining Stones/B+,C+
Fox Lorber/1993/90m/Ws 1.66
Don't expect a typical point-of-view from British director Ken Loach. Loach looks at segments of society often neglected by the camera lens. He comes from a documentarian background dominated by a humanist philosophy. Raining Stones is a mix of drama and comedy, but the laughs come out of character desperation, and their echoes ring hollow on the realization of the plight of these people.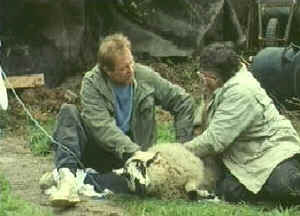 Anything to make a pound. ©Fox Lorber
Bob Williams is a family man on the fringe of economic survival in Manchester, England. Like many Brits, Bob's on the "dole," the weekly check provided to out of work citizens. It's not that Bob doesn't want to work. He's really rather desperate for a job, but he can't quite get it right. In fact, Bob is a solid family man lost in a jungle of cold stone.
Life comes crashing in on Bob with the approaching first communion of his daughter. He wants her to have a special outfit for the service and the money is beyond what he and his wife can scrape together. She's more realistic about it, but Bob is determined. He's clinging to a last bit of dignity and pride, but his desperation gets the family in deeper trouble than they bargained for.
One of Loach's gifts is the love he shows for these characters. He can laugh at their foibles without making fun of them. Considering the director's filmmaking style, you'd expect a colder attitude, but happily, that is not the case.
Loach directs in a simple and direct approach. What you see is what you see. There are no fancy camera angles, just folks living out their everyday existence. But the director sure does know how to mine a source for material. With effortless strokes, Loach involves you with his characters. You care about them, worry about their obvious mistakes and sweat the consequences alongside them.
Loach's cinema-verite style of shooting movies doesn't bode well for sharp, detailed DVDs. Raining Stones is no exception. It's a very grainy looking film, and often the resolution is less than optimum. It's likely that this is the result of the original camera element. Colors are fine and saturation is okay. Contrast is less pumped than I like. Some night detail is a bit hidden. Overall, I think the DVD replicates the look Loach wanted for Raining Stones, and I guess that is the most important measure of the DVD. sound is Dolby two channel, with little surround information. The Stewart Copeland score lacks full blown range.
The Feature Archive has articles ranging from John Ford to Blonde Bimbos, The Heistmasters, Akira Kurosawa and Frank Darabont.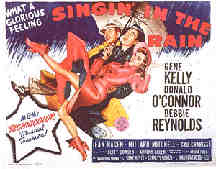 Click on the image above to for a view of Hollywood's great dance musicals. Astaire, Kelly, Rogers and more....

Check out the Movie Poster Archive for short bios and images of Susan Hayward, Kirk Douglas, Katharine Hepburn and many more. This month's featured star is Clark Gable.


Imaging Science Foundation promotes proper standards in home theater viewing. ISF trained technicians offer monitor calibration services to consumers. The difference in a properly calibrated monitor can be astounding. Click on the image to find an ISF member near you.
Home Theater Reference Reviewing System



When you read a DVD review it's of utmost importance to know what equipment is being used to evaluate quality. Click on the projector to find out more.
HOT LINKS
DVD Verdict
They may be judgmental, but that's the point, isn't it. Lots of DVD reviews plus news and more
The Home Theater Forum
Looking for lively and helpful exchanges on home theater, DVD, movies. Visit this friendly site and get a hardy welcome.