Raging Bull/A,A-
MGM-UA/1980/129/WS 1.85
There's no denying the brilliance of Martin Scorsese's Raging Bull, but yet, every time I see it, I am left cold by the content. I can't muster any real feelings for Jake LaMotta and the characters in his world. It's a great boxing tale. It certainly is far from the traditional Hollywood ring arc. There are no heroes, no personal salvation. Lean and distressing to a fault. And the fight scenes are brilliant and brutal in their depiction ring violence. You can almost feel the body blows as Scorcese's camera movies in and around the fighters close enough to feel the hot gladiatorial breathing.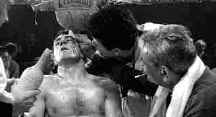 Rest before rage.©.MGM.-UA
Robert DeNiro is amazing as Middleweight Boxing legend Jake LaMotta. Lean and nasty as the young ring animal, DeNiro's bloated mature Jake on the way to the bottom of the barrel is acting dedication personified. I recall reading that the actor gained fifty pounds in order to make the out of shape former boxer look and feel real. Extreme? Yes. But this is an extreme performance. DeNiro won the Oscar© as Best Actor for his effort. Joe Pesci provides able support as LaMotta's brother and Cathy Moriarity is a blonde stick of fresh screen dynamite as Jake's wife Vickie.
Director Scorsese commands to perfection. You can sense the joy of filmmaking in Raging Bull. The dynamic editing of Thema Schoonmaker provides the perfect rhythms to the dark story and the director uses his entire creative team to maximum advantage.
This really is a very beautiful DVD transfer. There are a few minor damages to the source material, surprising considering director Scorsese's championing of film preservation. Overall, the black and white images are striking. Contrast is powerful, detail is very clean. The elegant photography of Michael Chapman looks splendid. The bits of color are artfully used and transferred. The Dolby Digital 2-channel surround delivers the music in sonorous tones.


The Feature Archive has articles ranging from Akira Kurosawa to Blonde Bimbos.


Movie Rage: Death in the Aisles
Everyone knows what it feels like to get angry at the movies these days. Here's a humorous but not so delightful view of big screen misery.
---


Click on the image above for as original view of Akira Kurosawa's work
---
Sturges Emerges


Preston Sturges was Hollywood's resident comic genius for more than a decade. His movies are timeless. Click on his image to read all about it.
---
The Movie Poster Archive includes extensive poster images from the films of stars like Susan Hayward, Kirk Douglas, Katharine Hepburn and many more. Our featured star is Edward G. Robinson