Pleasantville/A,A
New Line/1998/124m/ANA 1.85
A film that stands up to repeated viewings in a short time frame has something special going for it. Such is the case with the imaginative and technically brilliant Pleasantville. There are so many production details to appreciate in this film beyond even the technical achievements. I am convinced that after watching the film three or four times there is still a lot I have missed.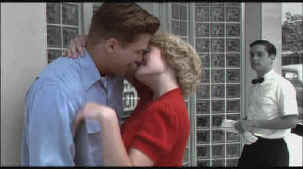 Bud watches Pleasantville's black and white world changes to color. İNew Line
The conceit is simple and not entirely original. A young man obsessed by the classic 1950's television show Pleasantville is magically transported into that world with his less than enthusiastic sister. The television world of the Pleasantville show represents an idyllic vision of middle America. Nothing ever seems to go wrong. There aren't any fires. There certainly aren't any burglaries. Dinner's always on schedule and piping hot and breakfast is a veritable mountain of hearty American fare. When David and Jennifer are sucked into the television situation comedy they assume the roles of the assume the roles of Bud and Mary Sue Parker, a perfect family in a perfect Pleasantville. But it doesn't take long for this pair from nineties to begin changing the lives of everybody in Pleasantville. It all starts with a little bit of not too innocent necking between Jennifer/Mary Sue and Skip at Lover's Lane. Before long more and more Pleasantville residents are getting in touch with their emotions and opening up to new feelings. The black and white world of Pleasantville begins changing bit by bit to color. First it's a rose and then a car or cherry blossoms or the juke box at Mr. Johnson's malt shop. The more the changes in color and people's attitudes invades Pleasantville, the more the threat of change and the unknown threatens the powers that be. The mayor and his board take action, and citizen's act like vigilantes. But the sun has always shined in Pleasantville and rest assured that a new world of color will not prevent the sun from illuminating the new found colors.
Pleasantville is a very funny film. Situations are often delightful. David/Bud's encyclopedic knowledge of the Pleasantville television show provides a road map for he and sister to traverse the early rough going in a black and white world. There are many magical moments before their journey is over. There are also some obvious swipes at social injustice and tyranny. Look for "No Colored Allowed" signs in shop windows and hateful book burning. Romance and the spirit of freedom outweigh the nastiness on the scales of Pleasantville. What at first may seem somewhat heavy-handed is in fact in keeping with the fable-like qualities of this wonderful film.
Gary Ross makes an astounding directing debut with Pleasantville. The enormous undertaking from a technical standpoint is integrated to perfection by the fledgling director. The pacing and balances are perfectly tuned. Ross is a natural storyteller as a director and as a writer, his imagination and warmth assure him of first rate material. Ross is on top of every aspect of this film and makes the most of all his fine collaborators. The photography by John Lindley is flawless. Randy Newman's music captures Pleasantville in its innocence and through its change. The special effects coloring of images is so extensive it's breathtaking.
The actors are terrific right down the line. Tobey Maguire brings great innocence and humanity to his role of David/Bud. Reese Witherspoon is an absolute hoot as Jennifer/Mary Sue. Joan Allen is so dignified as Bud's Mom. She keeps perfect control of her performance, letting her character change is slight, stuttering bits of emotion. William H. Macy plays Bud's Dad with metronome perfection. His hollow repeating of "Honey, I'm home," as everything is changing around him is a simple yet elegant cry of pain. Jeff Daniels gives the malt shop's Mr. Johnson great warmth and love. And it fun to see Don Knotts croaking his way through the all important television repairman.
A brilliant DVD. Marrying black and white with color images in the same frame, Pleasantville's colors are transferred with loving care. Every color as it is added to the monochrome world stands out vividly against its background. Colors are perfectly contained within their outlines. You couldn't have it any sharper on this DVD without creating artificial edges. The anamorphic transfer is simply immaculate, mining the most from the material with the same care that the filmmakers have lavished on their project. Dolby Digital 5:1 sound is as pristine as the images it supports. Sonic location is accurate. Dialogue is perfectly clear and Newman's music is balanced nicely.
This is a first rate special edition to boot. There are two audio commentaries, one from Gary Ross and one with an isolated score from composer Randy Newman. The Art of Pleasantville, a featurette, explains many of the challenges of bringing this world to life. John Lindley carefully charts the challenging waters of lighting black and white and color in the same frames. The effects team gives us an idea of how difficult it was to marry the color and black and white. There's also a story board gallery shown through the bound collection presented to Lindley from Ross. And there are even special DVD-ROM features like an interactive script launching you directly from page to image. What a great project.


Lady Eve, The (SE) A,C+



Wonderful classic comedy from writer/director Preston Sturges. Henry Fonda and Barbara Stanwyck star.
---


Selections from the Feature Archive include articles on Akira Kurosawa, Blonde Bimbos, Frank Darabont, Steven Culp, John Herzfeld or Vietnam: The Hollywood Pariah, and many more....
Director Walks the Wire


Balanced by an armor of movie lore and filmmaking daring, director John Herzfeld is comfortable walking the high wire. Check out this interview by Stu Kobak.
---

The Movie Poster Archive includes extensive poster images from the films of stars like Susan Hayward, Kirk Douglas, Katharine Hepburn and many more. Our featured star is Doris Day.
---

Click on the DVD MIA symbol for profiles of DVDs missing in action.
Add films to the DVD MIA Master List by filling out a simple form. Click Here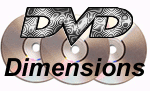 DVD Dimensions sells DVDs from an easy to use online interface.
---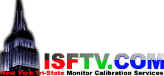 ISF Monitor Calibrations in the Tristate New York area. Lots of hardware info and frequent hardware peaks from video expert Kevin Miller. They may be judgmental, but that's the point, isn't it. Lots of DVD reviews plus news and more.
---


Glenn Erickson's insightful DVD reviews have been a Internet fixture for several years. Check out some of his sophisticated feature articles. Currently hosted by DVD Talk.
---

Have you visited Home Theater Talk lately? One of the friendliest places on the Net for Home Theater and DVD discussion, you can get help for installation problems or simply share your opinions with other Vidiots.
---


Agoraquest is offering reviews, forums, news, and more dedicated to Sony products including, televisions, cameras, audio, DVD, and more.
---