Phantom,The/B,A
Paramount/1996/100/ANA 2.35
The Phantom sets out to recreate the feeling of vintage comic books and radio show adventures, and it does this admirably. Don't expect the story to break any new ground. It's another tale of an evil man seeking ultimate power, just like the search for the ark of the covenant in "Raiders." But this is the time honored story convention of serials, radio adventures, and comic books. This time it's the union of three precious skulls that produces high tech sparks and its The Phantom who must foil the villains. The plot and characters are taken seriously and the only laughter is provoked by that steadfast devotion to the comic book world. Bravo for eschewing the cheap jokes at their own expense.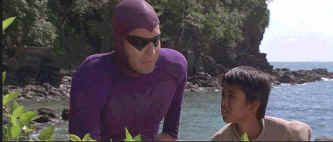 The Phantom's outfit color is in--Zane.©Anchor Bay
Non-stop action is a hallmark of good action flicks and director Simon Wincer makes sure The Phantom is no slouch. It moves from the improbable island location where The Phantom resides to the skyscrapers of the big city and finishes in the Disneyland-like cave headquarters of the Chinese pirates. I couldn't help wondering who The Phantom's island tailor was that produced his skin tight purple togs, or maybe he sent for them from some ginchy Internet purveyor of camp outfits. Lit for maximum punch by director of photography David Burr, this is an extremely handsome production and despite its limitations of script, it is fun.
Billy Zane is a likable cartoon hero. Handsome, well-built, the actor moves through the role of The Phantom with a feeling of confidence. Zane works very well in and out of his Phantom suit. Kristy Swanson is an appealing heroine as Diana Palmer, niece of a major newspaper publisher(How come the heroines in all these comic adventures seem to be related to rich men?). Treat Williams does his best for evil as Drax, ably assisted by James Remar as knife-wielding henchman Quill. Catherine Zeta-Jones is the great looking bad girl, but in The Phantom she doesn't generate the scren magic that has propelled her to current screen adulation.
This is one beauty of a DVD. The saturated comic book colors jump right off the screen on this delightful DVD. There are no discernible compression artifacts in the transfer. Check out the lushness of the jungle, every leaf singularly defined right down to droplets of jungle dew. The anamorphic images are as sharp as can be with no ill effects of digital manipulation. Even in high contrast scenes and there are plenty in this punchy transfer, edges are clean. Dolby Digital 5:1 Surround Sound is delivered with pinpoint excitement. There's lots of bass pop with enormous sense of ambiance around all the sound. Explosions are beautifully controlled both visiably and aubibly. .
Home Theater Reference System
Laser discs and DVDs are evaluated on the following current home theater equipment: Stewart 6' x 11' Videomatte 1.33 Gain Screen, 2 Runco 980 Ultra Projectors stacked, Faroudja LD100 Line Doubler, Lexicon DC1 Surround Processor/Switcher, 2 Pioneeer Elite CLD-97 Laser Disc Players with AC-3 Modification, Sony 7000 DVD Player, Toshiba SD-3006 DVD Player, Total Media Systems Reference Home Theater Suite, LR Fronts, Center, LR Sides, LR Rears, 2 Velodyne F1500R Subwoofers, Sunfire Cinema Grand5 Channel Amp, Sunfire 2 Channel Amp, Lexicon RF Demodulator, Lexicon T-500 System Remote Control, Speaker Wire and Interconnects by Straight Wire.
HOT LINKS

The American Widescreen Museum
The wealth of information about widescreen movies is presented in a intelligent and easy to understand interface. Color in movies is given a similar treatment.

Robert Harris is part of the dynamic duo that restored Lawrence of Arabia, Spartacus, My Fair Lady and Vertigo. Harris rides a white horse into the battle to preserve our film legacy. Click on the image to read more.
Check out the Movie Poster Archive for short bios and images of Susan Hayward, Kirk Douglas, Katharine Hepburn and many more. This month's featured star is John Wayne. The Feature Archive has articles ranging from Akira Kurosawa to Blonde Bimbos and John Ford.



Click on the image of The Heistmasters for an interesting feature on the tough guys that pull off the big jobs.