People vs. Larry Flynt/A,A
Columbia Tristar/1996/130m/ANA 2.35, PS 1.33
The most remarkable thing about this film is the central character is quite despicable, crude, even pathetic, yet he still manages to come across as a genuine American hero. Woody Harrelson's "in-your-face" performance as smut-meister Hustler publisher Larry Flynt is astonishing. The biography as directed by erudite Milos Forman makes its main focus Flynt's battle against censorship. With skillful editing and pacing, Forman makes what could be a mundane and distasteful subject thoroughly exciting and even inspiring. And even the love story is totally convincing and ultimately moving. Courtney Love and Harrelson are perfectly matched.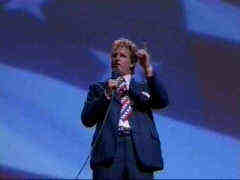 Flynt and the flag. ©Columbia Tristar
This exquisite transfer captures the brooding, sleazy nightclub atmosphere as easily as the high courtroom drama. Colors are very accurate and image is perfectly in focus. Anamorphic 2.35 and P/S1.33 transfers are available on either side of the DVD. The Dolby 5:1 sound is immaculately recorded and presented.


The Feature Archive has articles ranging from Akira Kurosawa to Blonde Bimbos and John Ford.



Click on the image of The Heistmasters for an interesting feature on the tough guys that pull off the big jobs.
The Movie Poster Archive include extensive poster images from the films of stars like Susan Hayward, Kirk Douglas, Katharine Hepburn and many more. This month's featured star is Edward G. Robinson


Black DVD Online is a new site dedicated to black film content on DVD. The commendable enterprise is hosted by Webmaster Samuel L. McLemore, Jr. and presented in an attractive interface.
---

Direct from the corridors of the Home Theater Forum, Home Theater Talk is the newest place on the Net to discuss everything home theater. Friendly atmosphere and knowledgeable folks are the secret ingredients.
---

Elite Entertainment President Vini Bancalari talks about his horror roots with DVD Unleashed. Find out why Vini has started a new DVD enterprise, Focus Film Entertainment. Watch for Sherlock Holmes coming into focus on DVD. Click DVD Unleashed to read all about it.