Peggy Sue Got Married/B+,B+
Columbia/1986/103m/ANA 1.85/FS .133
There are qualities about Peggy Sue Got Married that make it hard to categorize. Much of it plays like a comedy, yet there are few scenes that do more than bring a smile of fond remembrance to your face. In fact, the film is blatantly sentimental and old-fashioned. The sensibilities, though streamlined and updated, remind me a lot of Capra's classic small town movies. There are no bad guys in director Francis Ford Coppola's vision; just circumstances that make people the way they are. Could you call this a cartoon romance? How about an innocent fantasy? No matter, Peggy Sue Got Married is thoroughly likeable and entertaining.
Peggy Sue Kelcher Bodell is separated from her husband and childhood sweetheart Charlie Bodell. At her 25th high school reunion, she is once again chosen prom queen, but this only serves to highlight her dissatisfaction with her current life. Passing out, she awakens as a young woman some twenty-five years before; before her life had made some wrong turns; before the pure love she had for Charlie was tainted by time. Determined to make things turn out differently, Peggy Sue explores her life's choices armed with wisdom brought back from the future.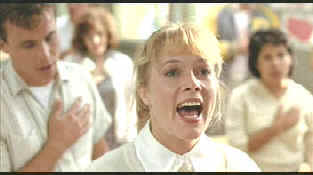 My County Tis of Thee ©Columbia
Kathleen Turner gets one of her most appealing roles as Peggy Sue. Turner magically turns younger through force of personality more than anything else. She captures the right mixture of cynicism and innocence. Watching Peggy Sue Got Married made me want to revisit some other Turner vehicles, especially the wonderful War of the Roses, another film in which Turner has to turns younger. Nicolas Cage makes the most of his eccentric delivery as Charlie. Man, did he look young in Peggy Sue Got Married. In fact, Cage was only 22 to Turner's 32. Jim Carrey has a nice supporting role as cut-up and future dentist Walter Ness and veteran actors Barbara Harris and Don Murray are fine as Peggy Sue's parents.
Some of the lighting schemes are very difficult for video. In the haze of remembrance, the source material contains some blue flare, which is exacerbated on video. Look for some blue halos around the characters heads in a few scenes. Otherwise, this is a fresh and youthful DVD. You can even check out some minor flaws in Turner's pancake make-up if you look closely. Yes, it's very sharp and colors are beautifully saturated and contained within their outlines. The Dolby Digital 2-channel sound is adequate. It doesn't manage to open up the film at all, but dialogue is clear and the pop music beat has enough bounce.
The Feature Archive has articles ranging from John Ford to Blonde Bimbos, The Heistmasters, Akira Kurosawa and Frank Darabont.



Preston Sturges was Hollywood's resident comic genius for more than a decade. His movies are timeless. Click on his image to read all about it.

Check out the Movie Poster Archive for short bios and images of Susan Hayward, Kirk Douglas, Katharine Hepburn and many more. This month's featured star is Clark Gable.

]Imaging Science Foundation


The Imaging Science Foundation promotes proper standards in home theater viewing. ISF trained technicians offer monitor calibration services to consumers. The difference in a properly calibrated monitor can be astounding. Click on the image to find an ISF member near you.
HOT LINKS
DVD Verdict
They may be judgmental, but that's the point, isn't it. Lots of DVD reviews plus news and more
The Home Theater Forum
Looking for lively and helpful exchanges on home theater, DVD, movies. Visit this friendly site and get a hardy welcome.
Home Theater Reference Reviewing System



When you read a DVD review it's of utmost importance to know what equipment is being used to evaluate quality. Click on the projector to find out more.