Pal Joey/B+,B+
Columbia/1957
Look no further than here for the perfect late vintage Sinatra musical than Pal Joey. Frank plays the heel to perfection and belts out songs delivered with his patented phrasing laced with an amoral edge. Sinatra never raked his hat to better effect. Every sentence is a challenge. The jacket hang casually over his shoulder is nothing more than an oversized chip.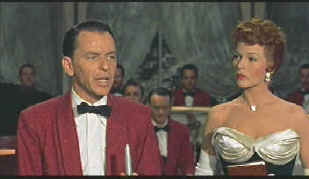 What am I bid for this gorgeous movie queen? ©Columbia
Joey Evans is the guy all the girls fall for. Joey blows into San Francisco after a rude departure from another city and finds himself a singing/MC gig at a local girlie club. The innocent blonde next door falls for Joey and an elegant Knob Hill social butterfly, who is also a former show girl, also falls for Joey's brand of sex appeal. The complications that ensue are happily emphasized in song. Story-wise, probably the biggest issue is why all the girls fall head over heels for Sinatra's Joey Evans. Is there something about a heel? No matter. This is standard backstage stuff chiefly useful to introduce the songs and to emphasize costumes and other production values.
The ladies are truly lovely to look at: Rita Hayworth playing the leggy ex showgirl moving in high society circles and Kim Novak the innocent blonde from the Midwest. Chief amongst the joys for me in watching Pal Joey are seeing Rita Hayworth before her beauty took a precipitous fall to age and disease. Hayworth delivers her big song and dance number (dubbed) with good-natured self parody, reminding the audience that she hasn't forgotten how to move those hips since her sexy turn as Gilda or while dancing the light fantastic partnered with Fred Astaire. Kim Novak is another issue. Novak simpering innocence doesn't translate well into a song bird. I cringed listening to her warble "My Funny Valentine" and I can't say I blame Mrs. Simpson for wanting her out of the show.
Oh yes, and Sinatra croons, singing one of his signature songs, "The Lady is a Tramp" with his inimitable easy, breezy phrasing, with some extra special leers reserved for the hostess of the evening at which he performs. "Bewitched Bothered and Bewildered" is given stylish treatment by Sinatra and Hayworth. Some of Hayworth's singing is dubbed as are Novak's, same for our funny valentine.
Production design is simple and elegant. Originally created from the stories of John O'Hara with songs and music by Richard Rogers and Lorenz Hart for the Broadway stage, Pal Joey made it to the screen under the helm of veteran director George Sidney. Sidney, who guided Judy Garland through the paces in Harvey Girls, knows how to make the most of available talent. The songs are given clean simple editing to deliver maximum impact.
Pal Joey is an outstanding DVD. Transfer elements are in lovely condition with no evident color fading or instability. The anamorphic picture is sharp with no unsightly edge enhancement. Fine grain is delivered with a fine, tight structure. Contrast range is very strong and sets come to life with maximum punch. The Dolby Digital is mono and delivered with clear dialogue and stable music. There's no evidence of hiss or warble.
The Movie Poster Archive include extensive poster images from the films of stars like Susan Hayward, Kirk Douglas, Katharine Hepburn and many more. This month's featured star is Kirk Douglas.
---


Gary Morris's insightful publication Bright Lights Film Journal turns the celluloid in films from a unique perspective. Click on the image above for more pure movie views.
---


The Imaging Science Foundation promotes proper standards in home theater viewing. ISF trained technicians offer monitor calibration services to consumers. The difference in a properly calibrated monitor can be astounding. Click on the image to find an ISF member near you.
---

DVD Informix is a British site providing a variety of DVD information, including lots of DVD software. Check it out from articles to links.
---

Lovers of Hong Kong movies will relish MC4's site that includes reviews and other information about the Hong Kong movie scene.
---

The Feature Archive has articles ranging from Akira Kurosawa to Blonde Bimbos and John Ford.
Redeeming the Writer:


A Conversation with Frank Darabont
---