Out of Africa(SE)/B+,B+
Universal/1985/161/ANA 1.85
Out of Africa is a first class production. From photography to setting to design, director Sydney Pollack's film is a paradigm of taste. The pacing is contemplative, with many landscape shots of Africa over which John Barry's romantic score emphasizes the images. Don't expect a lot of action or even hot-blooded romance.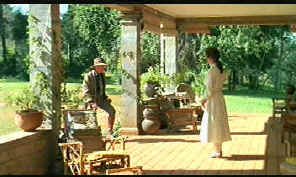 Finch-Hadden arrives. ŠUniversal
Taken from Karen Blixen's (Isak Dinesen is the name under which her memoirs are written) memoirs of her African experience and other writings, Out of Africa focuses mainly on romance, failed and otherwise. There's a lion* or two thrown into the mix, some quaint interaction with the native population, but it is her romantic relationships that rule the movie. The Danish Blixen begins her life in Kenya in a self-made marriage of convenience, but it is soon evident that what hopes she has for a full life with Baron Blor Blixen will never come to fruition. She turns to the land and the native Africans that life on their property. Growing coffee or tending to native ailments is no substitute for a man. Fortunately, a British hunter, Denys Finch-Hatton, makes is attracted to Karen and moves right in to her heart, where Blor never took up residence. The natural reserve of these characters hides the passions underneath the surface. Even at her most emotional, Karen Blixen is restrained. Finch-Hatton has a coldness about him that even weathers the hot African veldt. Blor is child-like in his devotion to pleasure, but he has no idea of what a real relationship should be like.
Meryl Streep gives another of her chameleon performances as the independent Karen Blixen. Streep's accent adds an interesting coldness to Karen, casting her alone amidst the African landscape. Her humane acts, caring for the native Africans that live on her property, are hidden by the icy veneer. There's only one moment when the wellspring of feelings comes to the forefront, as she departs Africa and asks her manservant Farah to say her name. It is a beautiful moment which brings emotional spark to Karen that is missing for the entire film. Redford is a stoic man of the land as Denys Finch-Hatton. His laconic acting style suits the character quite well. Klaus Maria-Brandauer tries hard to be charming as the Baron, but it's a difficult role at best. In Song of Africa, the accompanying documentary on this special edition, Streep comments on a scene which she felt goes against the grain of her character when she says to Finch-Hatton that she forbids him from taking Felicity on a trip to Somali. I rather agree that it was a large false step on the part of Pollack and undermines the character built by Streep.
David Watkin's lighting of Out of Africa is superlative and the special edition DVD from Universal preserves it very nicely. The land dominates the visuals and, though the long lens shots are often grainy, they looks very fine on DVD, with tightly controlled elements. Perhaps the color could have been a spot richer, but the magnificence of the setting is justly delivered. Don't expect the precision sharpness of a special effects movie here. Images are sharp enough to get into the soul of the characters, though the script prevents much depth on that account. The music is beautiful and recorded with a lush, open feeling. Surround information is not aggressive, but the feeling of place is well-maintained. Maybe I would have liked the hot breath of a lion bearing down on my preferred home theater seat, but Pollack's film takes a more casual and even approach to everything.
Sydney Pollack's memories of Out of Africa are remarkable. Details of photographic stock, lighting schemes, stories from the set, all come to vivid life in Pollack's special edition audio commentary. The director is equally at ease talking story or technique. He touches on virtually every aspect of the production, from the animals to lens apertures to weather problems. This is a mightily impressive commentary track delivered with eloquence by Pollack. A keeper and a teacher.
Along with Pollack's astute commentary is a top-notch documentary about Out of Africa directed by Charles Kiselyak, Song of Africa, which runs about fifty minutes. Kiselyak also did the fine documentary on Universal's To Kill a Mockingbird special edition DVD. Director Pollack, star Streep, composer John Barry, and Blixen biographer Judith Thurman all share their observations on the documentary, as well as some brief comments from writer Kurt Luedtke. I especially loved listening and watching Meryl Streep talk about her experience with forthright honesty.
*Professional zookeeper Shari Meyr pointed out that my reference to tigers (since changed to lions) was ignorant of the African animal population.
The Feature Archive has articles ranging from Akira Kurosawa to Blonde Bimbos, The Heistmasters and Frank Darabont.



Click on the image above for a "dream interview" with director John Ford.
Check out the Movie Poster Archive for short bios and images of Susan Hayward, Kirk Douglas, Katharine Hepburn and many more. This month's featured star is Gregory Peck.


National Preservation Film Board
Learn about what this organization is doing to preserve our film heritage. Want to know the guidelines for proper handling of film? This is the place.
Direct from the corridors of the Home Theater Forum

, Home Theater Talk is the newest place on the Net to discuss everything home theater. Friendly atmosphere and knowledgeable folks are the secret ingredients.
DVD Verdict
They may be judgmental, but that's the point, isn't it. Lots of DVD reviews plus news and more.


Click on the link to visit the judge's chambers


Imaging Science Foundation promotes proper standards in home theater viewing. ISF trained technicians offer monitor calibration services to consumers. The difference in a properly calibrated monitor can be astounding. Click on the image to find an ISF member near you.
---
Home Theater Reference Reviewing System



When you read a DVD review it's of utmost importance to know what equipment is being used to evaluate quality. Click on the projector to find out more.