Notting Hill(SE)/B,A-
Universal/1999/124m/ANA 2.35
Notting Hill is definitely a film designed to capitalize on the screen presence of Julia Roberts. The star plays hot movie star Anna Scott on the loose in London who meets a mild-mannered bookseller and somehow falls for the guy. Thatís the big stretch of the movie. Fortunately, Hugh Grant plays storeowner William Thacker with terrific self-effacing charm, making a fine match for Robertsí inherent glamour. Notting Hill is the neighborhood where Thacker lives and works and the look and feel of the area is replicated with warm detail, including the characters that gravitate to this type of neighborhood. Thereís an even daffy housemate, Spike, adding layer of broad hilarity to the otherwise reserved humor.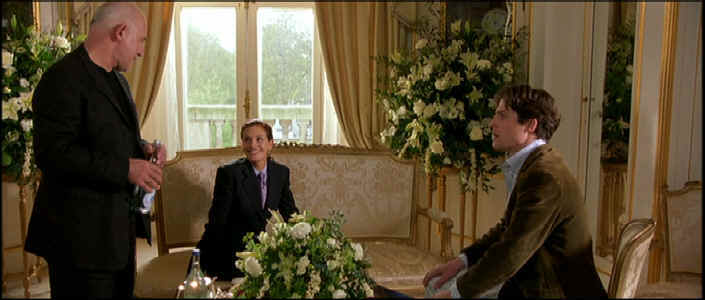 Horse and Hound, of course! ©Universal
The material seems stretched with elements repeating themselves. This is not meant to imply that the charm is lost or the film becomes boring. Itís easy to enjoy Notting Hill from start to finish. The cast is pleasant company and the sense of humor of the writer and director is consistently chipper. Adding the madness of Spike to the mostly reserved group of characters is sheer inspiration and gets enormous mileage from his shabby presence.
Directed by Roger Michell in earnest and straight-forward fashion, Notting Hill proves itself an easy audience pleaser. Writer Richard Curtis knows the characters quite well, and both the director and writer's comfort makes for good humor out of natural situations. Curtisís last script success Four Weddings and a Funeral, had a similar feel to the structure and the character relationships. Grant and Roberts are a much better combination than Grant and MacDowell, which gives Notting Hill a big boost up on the former film.
Roberts does her job, oozing with charm, delivering her lines with breathy conviction, and making us almost believe she could fall in love with a man as ordinary as Hugh Grantís merchant. Alec Baldwin does a very nice cameo as Scottís Hollywood star boyfriend with gleeful abandon. Rhys Ifans plays Spike with a mischievous delight, looking to steal every scene in which he appears.
Notting Hill is given the special edition treatment from Universal. Listening to director Michell, writer Curtis and producer on the audio commentary is very enjoyable. You can understand the relationships in the film from the way these gents interact. Of the five deleted scenes, two are very funny. One even makes the ďitís a shame they didnít leave it in the movie category.Ē Thereís even a little tour hosted by Hugh Grant that oozes charm, apropos of his character.
The images are very sharp, unenhanced, with splatters of bright color bringing the street scenes to gleaming life. The bright transfer appears free of NTSC artifacts such as jitter, twitter or cross-color. The DVD has a fine contrast ratio emphasizing the upbeat nature of the film. Clean Dolby Digital 5:1 sound makes it easy to understand dialect and the score from Trevor Jones has lots of sonic energy.
The Feature Archive has articles ranging from John Ford to Blonde Bimbos, The Heistmasters, Akira Kurosawa and Frank Darabont.



Click on the image above to learn more about the effect of an actor's voice on his screen persona.

Check out the Movie Poster Archive for short bios and images of Susan Hayward, Kirk Douglas, Katharine Hepburn and many more. This month's featured star is Clark Gable.
Imaging Science Foundation


The Imaging Science Foundation promotes proper standards in home theater viewing. ISF trained technicians offer monitor calibration services to consumers. The difference in a properly calibrated monitor can be astounding. Click on the image to find an ISF member near you.
HOT LINKS
DVD Verdict
They may be judgmental, but that's the point, isn't it. Lots of DVD reviews plus news and more
The Home Theater Forum
Looking for lively and helpful exchanges on home theater, DVD, movies. Visit this friendly site and get a hardy welcome.
Home Theater Reference Reviewing System



When you read a DVD review it's of utmost importance to know what equipment is being used to evaluate quality. Click on the projectors to find out more.