Never Been Kissed/C+,B+
Fox/1999/108m/WS 2.35:1
Drew Barrymore projects incredible screen sweetness. Her comic instincts are outstanding and she is absolutely unafraid in front of the camera. Barrymore makes Never Been Kissed more, much more than it could possibly have been otherwise. The lightweight entertainment derives charm from its star with its moderate success totally dependent on Barrymore to carry the movie.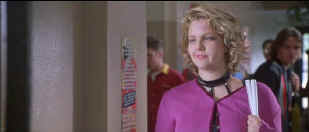 An unafraid performance from Drew Barrymore. ©Fox
Yes, itís yet another look at high school, as 25-year-old would-be reporter Josie Geller (Barrymore) goes undercover as a high school senior to come up with some fascinating reading. Itís a mighty tall order to begin. Not much is happening at South Glen South High School besides the Geller invasion. One difference is that the nerds are represented by girls. Every other high school opus concentrates on boy nerds. There are the usual tasteless jokes at the expense of the intellectuals, the mindless queens of the campus, a heartthrob teacher, and nothing much original. While Josie desperately looks for an angle for her debut scoop, she once again fails to ingratiate herself to the in crowd. Her 23-year-old brother plays Josie's brave knight in Tom Cruise skivvies as he enrolls at high school to help make Josie Geller popular.
David Arquette lends Barrymore some very funny support as her goofy brother Rob. Assorted other able presences try hard to score screen points, but the script gives them very little with which to work. John McGinley, the eccentric Independent film regular, struggles as Josieís editor, with little humor beyond empty bluster. Molly Shannon fares a little better as Josieís newspaper colleague and Garry Marshall has some silly moments at the newspaperís publisher.
Never Been Kissed is turned out in bright DVD colors. Like the film, donít look for subtle touches here. Everything is pleasingly direct. The intensely saturated palette works well with the thematic material. This is another of those effortlessly sharp DVD transfers. Edge to edge clarity is uniform. Edge enhancement is minuscule. The Dolby 5:1 Surround is loud, but peripheral information is not especially directional. The aggressive music tracks are clean and bass impact is tight. Even some of the louder elements, like the high school marching band, stay free from distortion.