Mystery Men(SE)/C+,A
Universal/1999/122m/ANA 185
The extraordinary aspects of Mystery Men suggest some wacky potential for this comedy about a bunch of hapless would-be super heroes. The script, after a decent set-up, is very ordinary, however, and when the characters dissolve to nothing more than action stick figures, Mystery Men is sapped of its vitality. The movie is like Austin Powers without his mojo, so to speak.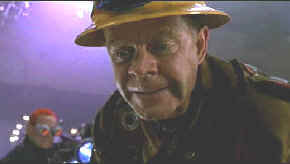 The Shoveler gets forked. ŠUniversal
Captain America, the crime fighting super hero savior of Champion City, is going through a slow period. He's cleaned up the city so well, there just aren't any villains left to inspire him. His inspiration is helping parole the most arch of his former enemies. The plan goes predictably afoul, and its up to a zany Mystery Men to save the day for Champion City.
Chief inspiration is in the varied persona of the super heroes. I mean, how could you fail to love The Shoveler, an underground worker by day and an underground super hero by night. Mr. Furious has his moments of divine explosiveness. And The Blue Raja shows potential behind the array of kitchenware weaponry. The less successful characters tend to weigh down the fun of Mystery Men. The bowler is all too boring, though she does strike with a couple of great one-liners. Spleen is predictably disgusting Captain Amazing gets a great commercial set-up, but fails to find spiritual comic flight in the face of Mystery Men villainy. The byplay between the character is where any real humor resides.
Kinka Usher makes his directing debut with Mystery Men. Usher does a great job in making the film look like a comic book. Another graduate from the commercial advertising directing school, Usher misses on making Mystery Men soar above a script that falls back on furious action with little substance.
William H. Macy is just great as The Shoveler. He handles his shovel with the panache of a great Samurai action star and delivers lines in deadpan and sincere style to winning effect. Ben Stiller is Mr. Furious. His outbursts explode from red faced eruptions with some wonderful results and some equally tiring repetition. Hank Azaria learns to handle the spoons and forks pretty well in trying to find an edge to The Blue Raja, but his character is left short of great comic realization. Jeneane Garafalo wears an armor of wisecracks but look awkward holding a bowling ball as The Bowler. Keith Mitchell as Invisible makes an appearance simply to be ridiculed. Wes Studi does his studied stiffness as The Sphinx. Greg Kinnear makes the most of Captain America and Geoffrey Rush fails to shine as Casanova Frankenstein.
Mystery Men is a sensational DVD. The comic book production design is brought to amazing life. The many night sequences are alive with bright highlights. Catch the reflections off the brims of the cops' hats. Every Mr. Furious's male prostitute leather outfit has the sheen approaching the best of PVC. This is as sharp as any DVD I have ever seen with no edge enhancement visible. Maybe Invisible Boy worked on the transfer. The depth of information is astounding. Colors pop off the screen with maximum saturation. Directionality of the Dolby Digital 5:1 surround is splendid with exciting effects springing through every part of the home theater.
Packaged in special edition clothes, Mystery Men includes second audio commentary from director Usher, entertaining deleted scene, a Spotlight on Location and other typical SE accoutrements.
The Feature Archive has articles ranging from John Ford to Blonde Bimbos, The Heistmasters, Akira Kurosawa and Frank Darabont.



Preston Sturges was Hollywood's resident comic genius for more than a decade. His movies are timeless. Click on his image to read all about it.

Check out the Movie Poster Archive for short bios and images of Susan Hayward, Kirk Douglas, Katharine Hepburn and many more. This month's featured star is Clark Gable.

Imaging Science Foundation


The Imaging Science Foundation promotes proper standards in home theater viewing. ISF trained technicians offer monitor calibration services to consumers. The difference in a properly calibrated monitor can be astounding. Click on the image to find an ISF member near you.
HOT LINKS
DVD Verdict
They may be judgmental, but that's the point, isn't it. Lots of DVD reviews plus news and more
The Home Theater Forum
Looking for lively and helpful exchanges on home theater, DVD, movies. Visit this friendly site and get a hardy welcome.
Home Theater Reference Reviewing System



When you read a DVD review it's of utmost importance to know what equipment is being used to evaluate quality. Click on the projector to find out more.