In 1932 Universal continued its grip on movie horror with the introduction of another franchise character, The Mummy. Written directly for the screen, the highly romantic horror movie depended more on character than special effects and shock.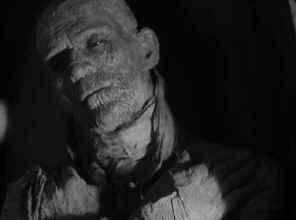 The Mummy reanimates. ©Universal
Archeologists working on a significant Egyptian dig discover a sarcophagus containing a centuries old mummy. An accompanying box found is emblazoned with a warning against opening. One of the diggers cannot resist the temptation and as he examines the contents of the box and translates the scroll found inside, the words send a message deep into the past, which awakens the mummified High Priest Imhotep to the present in an elegantly simple reanimation sequence.
The mummy later shows up a decade later in modern Egyptian dress as a mysterious scholar, Ardeth Bey. Bey has set his sights on repossessing his lost love, Anck-es-en-Amon, whose spirit he believes is roaming around in the soul of Britisher Helen Grosvenor. Bey calls upon the powers of darkness to aid in his pursuit of the girl, but the fate of Imhotep must end in pain.
Boris Karloff gives the title character a poignant animation. Karloff, playing both high priest Imhotep and his modern incarnation, Ardeth Bey, drags his body stiffly around as the shrouded mummy or slips into scenes with the stealth of a cat as Bey. Behind Karloffís eyes are a longing and sadness that penetrate every frame in which appears. This is truly a star turn.
The Mummy is a masterpiece of restraint. The directing debut of great cinematographer Karl Freund, The Mummy is framed in shadows and eerie key lighting. Freund gets it right his first time out, relying on the power of his camera to create a fertile ambiance for romance coached in horror terms. More stalker than horror movie Freundís The Mummy is reminiscent of the great German expressionist films. Freund does an outstanding job of maintaining a consistent feeling through the film, both in the modern and ancient scenes.
Film historian Paul Jenson delivers a stiff second audio commentary for the film. While some of Jensonís observations clarify gaps in the plot, his digressions concerning the actors are not especially interesting. Itís not easy listening to Jenson. Universal should have chanted some old Mummy incantations to revive Boris Karloff for a second audio. Now, that would have been something.
The Mummy is nicely preserved quite by Universal. Though there is some element deterioration, the print is quite sharp and the dirt and scratches are seldom distracting. The Karl Freund photography retains its atmospheric lighting with good dynamic contrast range. Donít expect a Dolby Digital surround extravaganza on this incarnation of The Mummy. Be thankful for clear mono sound without hiss.