Mr. Death/A-,B+
Universal/1999/92/ANA 1.85
Errol Morris makes unusual documentaries. Morris mixes re-enactments with actual footage, adds elements of stylized photography to typical talking head shots, realizing a dynamic hybrid film style. Along with the stylization, Morris tackles off-beat subject matter. Whether it's an innocent man or compulsive behavior, Morris surprises viewers with his ability to suck them into his vision. Mr. Death: The Rise and Fall of Fred A. Leuchter, Jr. may be the most surprising of them all. This time out the filmmaker looks at the career of Fred A. Leuchter, Jr., an engineer whose fascination with death row led to some scary corners of the world and mind.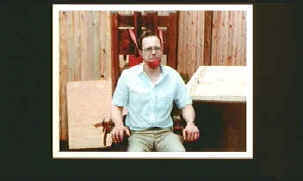 Leuchter tries out the chair. ŠUniversal
Leuchter's initial reputation was built on his macabre fascination with methods of capital punishment. Morris begins his exploration as Leuchter relates how he found current electric chairs in a sad and inhumane state of disrepair. He designed and built his own chairs and sold them to a number of states that used that method of execution. As his reputation as an expert in execution equipment grew, he was hired to design a more efficient gas chamber, and build a lethal injection death machine. He even got to refurbish and make a gallows more efficient.
Morris sets you up in the early going with some off-kilter responses from Leuchter. His little jokes about the electric chair, his comments on humane execution coupled with descriptions of frying human fat strike dissonant emotional chords. Where did this guy come from? Who is Fred Leuchter? Leuchter's father was a supervisor in charge of transportation for a prison system in Massachusetts. Leuchter hung around the prisons, was fascinated with the electric chair, and even tried it on for size on occasion.
It's all cut and dry, truly macabre, and a little bit weird, until the Leuchter dark odyssey takes a turn. Because of his reputation as an expert in death machinery, Leuchter is contacted by the defense team of Ernst Zundel, a German emigrant living in Canada being tried for publishing a book denying The Holocaust. Leuchter is dispatched to the Polish death camps to seek out evidence that the gas chambers indeed did exist and function. Morris is a subtle filmmaker. He presents the material in an uncomfortable way. Questions of right and wrong are complex.
Now Morris's film takes on a whole new path. Still focusing on the slightly bizarre Fred Leuchter, the new question becomes whether the horrors of Nazi Germany's execution of millions of Jews actually happened. Leuchter gathers evidence, his Polish scrapings recorded on film. Is Leuchter an expert. Does his investigation use fool-proof scientific methods. What is the result of Leuchter's testimony. Through Morris's magnifying camera lens the story unfolds with elegant, seductive, precision. Some questions are left open. Leuchter's motives are not clear. Mr. Death is definitely one fascinating movie trip worth making.
The DVD is clean and extracts the material as close to Morris's vision as possible. Grainy home movies and video-taped sequences add a varied look to the material, contrasting sharply with Morris's most composed visuals. Grain is handled tightly, color is accurate and the picture is kept is sharp focus given the various mediums included. The Dolby Digital 2-channel surround sound is clean.



Selections from the feature archive include articles on Akira Kurosawa, Frank Darabont, Blonde Bimbos, Hollywood Street Gangs, or Vietnam: The Hollywood Pariah, and many more....

Film noir: The phrase hangs awkwardly on the tongue, shadowy images peek out from behind half-closed doors. Click on the Noir and Noir Again symbol for a look into the dark spaces of Hollywood's revisiting of film noir.

The Movie Poster Archive include extensive poster images from the films of stars like Susan Hayward, Kirk Douglas, Katharine Hepburn and many more. This month's featured star is Doris Day.
---


They may be judgmental, but that's the point, isn't it. Lots of DVD reviews plus news and more.


Click on the link to visit the judge's chambers.
---

Lovers of Hong Kong movies will relish MC4's site that includes reviews and other information about the Hong Kong movie scene.
---

Gary Morris's insightful publication Bright Lights Film Journal turns the celluloid in films from a unique perspective. Click on the image above for more pure movie views.
---

A huge selection of French movie posters with images galore. Don't miss this site if you ate interested in lovely French posters.
---

Check out these DVD recommendations from the Films on Disc DVD Review Archive. New releases are constantly in our face, but catalog gems should not be forgotten.