The formulaic nature of the James Bond film series has never been more(no pun intended) evident than in Roger Moore's Bonds. Moonraker, one of the better Moores, continues the tradition of repeating itself. Take the G-force machine of which Bond gets trapped. Isn't that the same gimmick as the massage chair in Thunderball. That said, at least Moonraker has some breathtaking locales and if you watch the "making of" short, you'll even learn that some of the death defying stunts were true to the tradition of Hollywood before computer enhancement.
Moore's nemesis is Michael Lonsdale, playing billionaire Hugo Drax, seeking, guess what, world domination. Considering what Bond goes through in every film the cult of Bondism may be secret S & M worshippers. Lois Chiles plays Holly Goodhead, Bond's artificial intellectual sexual stimulation, and the character of Jaws is reprised under the girth of Richard Kiel, still looking for a bite of Bond.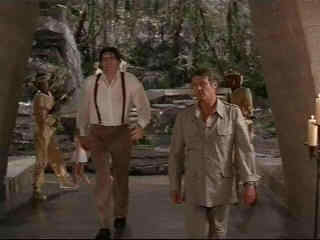 Bond and Jaws, a match made in Hollywood. ©MGM-UA
Images are first rate in this Bond outing. The DVD is very sharp without looking artificially enhanced. Colors are saturated richly, and dark scenes, like the Mardis Gras, are fueled by deep, dark blacks with no hint of grain. The dual layer disc is presented anamorphic 1.85 and full screen are respective layers. Includes in the packaging is a short and enjoyable promotional featurette and the usual bond DVD interface features that MGM has been so nicely packaging with this series.