Message in a Bottle(SE)C+,A
Warner/1999/131/ANA 2.35
Warning: This bottle contains excess artificial sweetener. Itís palatable, but after finishing the bottle thereís a definite bitter aftertaste. I guess thatís what you call a bittersweet romance. Message in a Bottle has some good elements going for it and for a lot of the time it is fairly involving. But the film veers off course for too often. The actions of the characters are suspect and when you start doubting, you may well wind up lost at sea.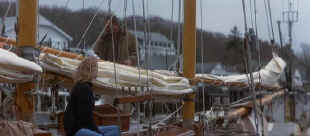 Getting to know you. ©Warner
Garret is a ship builder pining away for his lost love. Theresa is a newspaper feature writer hungry for a story. While strolling on the beach she finds a bottle containing a message. Itís a love letter that stirs her emotions and whets her appetite. She is determined to find the letter writer.
Robin Wright makes Theresa an attractive reporter and a good match for Kevin Costnerís laconic and poetic Garret. Itís no secret that Theresa solves her mystery, but mystery stirs up other mysteries, in this case mysteries of the heart. Paul Newman lends attractive support as Garretís Dad. Director Luis Mandoki has the difficult task of mastering the rough waters of this script. His stars often rise above the plot contrivances, but some of the waves are so unexpected and out of proportion to the body of water, that it leaves Message in a Bottle bobbing helplessly. Despite the melodramatic attempts to roil the waters, Message on a Bottle plays more like the still images of a lake suspended in a moment of calm.
Warner has produced a nice special edition out of Message in a Bottle. Director Mandoki and producer Denise De Novi provide a running audio commentary for the film and there are several deleted or shortened scenes that are commented upon as well. Five hidden special effects segments do a good job of dissecting the green screen work with examples of with and without. It is remarkable what can be done these days and when itís done like it is in Message in a Bottle, itís virtually impossible to realize itís an effect. The transfer is excellent. The handsome cinematography of Caleb Deschanel gets lush treatment on this DVD. Cool ocean blues and moody seaside interiors are given equally fine color renditions. Contrast is strong, yet retains the mood of the more intimate lighting. Detail is sharp enough to reveal the feelings that are communicated through the actorsí eyes. The surround mix captures a sense of both seaside and city and the tranquility and anger of the ocean.