Kingpin(SE)/B+,A-
MGM/11/117m/ANA 2.35
Combine The Color of Money with Dumb and Dumber and you have the heart of the new movie from the Peter and Bobby Farrelly the brothers who were also behind the later film. Much of the scatological humor of that first film is happily absent from Kingpin, though when it is present it succeeds with less offense.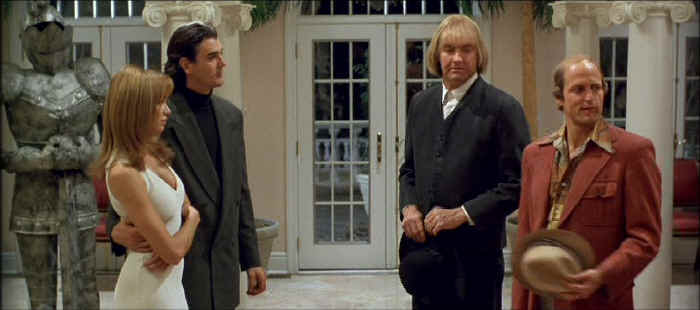 Show me the money. ©MGM
Woody Harrelson is very good as Roy Munson, the bowler who loses his hand as punishment for participating in a hustle with tour veteran Ernie McCracken, played over the top by a smarmy Bill Murray. Harrelson stays on firm ground in the role, finding a center of honesty to the insanity. Michael Keaton was originally set for the role of Munson but wound up replaced by Harrelson. It would have been a much different movie with the manic Keaton, and I actually think Harrelson proves himself a splendid player of comedy. His timing is excellent, the seriousness of his deadpan worthy of another Keaton.
Some of the funniest scenes are set in the Amish country where Munson finds his bowling protégé, Ishmael, played with a innocent goofiness by Randy Quaid. Yeah, it's silly when Munson removes some horse shoes in his own unique style, but it's a joke that plays and has legs with later references. From Amish country it's on the road to Las Vegas and bowling redemption for Roy.
Joining Harrelson and Quaid on the road to Vegas is the enchanting Vanessa Angel an actress who exudes sex appeal in every frame, pardon the pun. Kingpin delivers an abundance of laughter with surprising originality.
The special edition DVD trip is worth taking with audio commentary from the brothers Farrelly. Now, you know they have a good time on set. The crisp anamorphic images are colorful with lots of contrast. The bright photography and lively production design comes through in outstanding fashion. The Dolby Digital 5:1 surround adds a solid crunch to the falling pins and the music is open and clear.This Kingpin DVD rolls strike after strike
The Feature Archive has articles ranging from John Ford to Blonde Bimbos, The Heistmasters, Akira Kurosawa and Frank Darabont.



Preston Sturges was Hollywood's resident comic genius for more than a decade. His movies are timeless. Click on his image to read all about it.

Check out the Movie Poster Archive for short bios and images of Susan Hayward, Kirk Douglas, Katharine Hepburn and many more. This month's featured star is Clark Gable.

]Imaging Science Foundation


The Imaging Science Foundation promotes proper standards in home theater viewing. ISF trained technicians offer monitor calibration services to consumers. The difference in a properly calibrated monitor can be astounding. Click on the image to find an ISF member near you.
HOT LINKS
DVD Verdict
They may be judgmental, but that's the point, isn't it. Lots of DVD reviews plus news and more
The Home Theater Forum
Looking for lively and helpful exchanges on home theater, DVD, movies. Visit this friendly site and get a hardy welcome.
Home Theater Reference Reviewing System



When you read a DVD review it's of utmost importance to know what equipment is being used to evaluate quality. Click on the projector to find out more.