Infinity's Child/C+,B+
Winstar/1999/40m/FS 1.33
The only way I could describe this DVD is as an animation art show. The excuse for the art, which is often kaleidoscope-like in its presentation, is a thinly introduced story of planetary exploration. A monotone narration explains the mission. The mission then plays out in a series of visual presentations that are often organic shape-changing art. Some of the visuals are repetitious. Even when the art and music are quite different, it seems the same to me. At first I thought maybe this DVD might be something to play for ambiance enhancement with a quiet, pensive score accompanied by spacey visuals. But the electronic score is often pounding, even reminiscent of the Kodo Drums.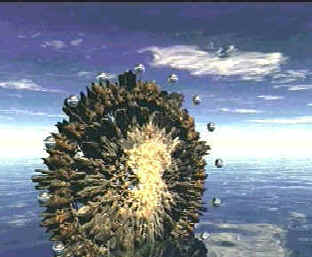 One of the shapes encountered on the space mission.©Winstar
Many of the images are stunning. Color saturation is vivid and frame after frame is razor sharp with great depth. I canít help saying so what? Blacks on the space sequence seem somewhat washed out. The Digital graphic material might present motion problems on less forgiving video display devices. The electronic music is nicely recorded in Dolby Digital 5:1 surround.
Using Infinityís Child as a DVD Rom will provide you with a better idea of the thin story line. You can explore the gallery of art by Bill Ellsworth, the work that inspired the art in Infinityís Child. Ellsworth is one of the artists whose work forms the basis for the graphics.
The Feature Archive has articles ranging from John Ford to Blonde Bimbos, The Heistmasters, Akira Kurosawa and Frank Darabont.



Click on the image above to learn more about the effect of an actor's voice on his screen persona.

Check out the Movie Poster Archive for short bios and images of Susan Hayward, Kirk Douglas, Katharine Hepburn and many more. This month's featured star is Clark Gable.
Imaging Science Foundation


The Imaging Science Foundation promotes proper standards in home theater viewing. ISF trained technicians offer monitor calibration services to consumers. The difference in a properly calibrated monitor can be astounding. Click on the image to find an ISF member near you.
HOT LINKS
DVD Verdict
They may be judgmental, but that's the point, isn't it. Lots of DVD reviews plus news and more
The Home Theater Forum
Looking for lively and helpful exchanges on home theater, DVD, movies. Visit this friendly site and get a hardy welcome.
Home Theater Reference Reviewing System



When you read a DVD review it's of utmost importance to know what equipment is being used to evaluate quality. Click on the projectors to find out more.