In the Company of Men(SE)/B+,B
Columbia/1997/97m/WS,ANA,1.85, PS 1.33
A fascinating low budget debut by writer/director Neil LaBute. This very nasty tale told with a perverse relish takes place in the office corridors of big business, where people are easily sacrificed to ambition.
When transferred on special assignment from their company, two young executives make a pact to "get even with women." for the bad treatment they have supposedly received. The proposal comes from Chad after listening to Howard lament about being dumped by his girlfriend. Chad, a rung lower on the company's totem pole than Howard, relates that his woman has recently moved out on him.
Once settled into their temporary business assignment, Chad finds the perfect subject for their experimental torture, a deaf secretary. Both Chad and Howard will woo the girl, divide her affections, play with her until she falls for one over the other and then drop the big revenge bomb. Chad is as nasty as a jagged shard of broken glass while Howard is too weak to resist the temptation to be more like than energetic and better looking Chad.
Shot by LaBute is a naturalistic style on a tight schedule, there is an intimacy about the film, almost making the audience an accomplice in the nastiness. The deed and the filmmaking are both down and dirty.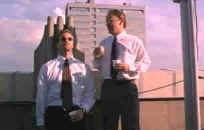 .Chad and Howard compare notes.©Columbia
LaBute works very well with his three principal actors. Aaron Eckhart gives Chad an icy edge. He's an attractive villain that you never like. Howard as played by Matt Malloy is almost a victim. Malloy makes you feel Howard's hesitation at every step. The remarkable performance is by Stacy Edwards as dead secretary Christine. Not only is she a very sympathetic character, Edwards is so on target it's hard to believe that she herself does not suffer from deafness. It's interesting to watch her character change as the plot thickens and her realization in the car in confrontation with Matt is nothing short of brilliant.
The DVD transfer is limited by the source material. With a miniscule budget(supposed $25,000)and a break-neck schedule, the look of the film suffers. It's not always perfectly sharp, but I tend to fault the source material. There is some excess grain and colors lack pop. The sound is just fine. Columbia has delivered In the Company of Men as a special edition featuring two commentary tracks by cast and crew. Everyone seems to have a lot of fun with the commentary and having so many principals involved keeps the chat lively and informative.
The Feature Archive has articles ranging from John Ford to Blonde Bimbos, Akira Kurosawa and Frank Darabont.



Click on the image above to access The Heistmasters, a view of the best directors of the heist.
Check out the Movie Poster Archive for short bios and images of Susan Hayward, Kirk Douglas, Katharine Hepburn and many more. This month's featured star is Clark Gable.
Imaging Science Foundation


The Imaging Science Foundation promotes proper standards in home theater viewing. ISF trained technicians offer monitor calibration services to consumers. The difference in a properly calibrated monitor can be astounding. Click on the image to find an ISF member near you.
HOT LINKS
DVD Verdict
They may be judgmental, but that's the point, isn't it. Lots of DVD reviews plus news and more
The Home Theater Forum
Looking for lively and helpful exchanges on home theater, DVD, movies. Visit this friendly site and get a hardy welcome.
Home Theater Reference Reviewing System



When you read a DVD review it's of utmost importance to know what equipment is being used to evaluate quality. Click on the projectors to find out more.