Before slamming into The Imposters I want to compliment writer/director Stanley Tucci on trying to capture the madcap humor of some of the screen's years, the thirties and forties. Okay, The Imposters struggles and ultimately fails to provide the necessary giggles, but how far off was Tucci. Comedy is walking the high wire without a net.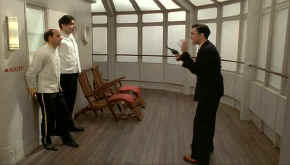 Caught out of uniform.©Fox
After getting roles in highfaluting production of Hamlet, two marginal actors have an altercation with the mercurial thespian star at a bar. When the actor is slightly injured in the bar action, the boys are chased by police. Hiding in a trunk, no doubt inspired by countless other "hiding in trunk" scenes in wonderfully daffy black and white films, they find themselves stowaways aboard a luxury liner traveling to Europe. Everybody's chasing them, but fortunately they make an ally of the Lily, the ship's concierge. In and out of doors with a little bit of drag thrown in for good measure, Tucci keeps the pace hectic, but the laughs are strained at best. The most deliriously happy scene is the conga like end to The Imposters.
Stanley Tucci and Oliver Pratt are very good comedians. The trouble is the script isn't that funny and they can't improvise enough to tickle my fancy. Tucci is physically Keaton-like and Pratt reminds me of an Oliver Hardy. Maybe another Tucci attempt will provide belly laughs for a big audience, but this one is simply a comic imposter. Woody Allen does a cute bit as a theatrical director auditioning the boys for his play, but even that plays funny mostly because Allen is the actor.
What a lush transfer. The colors are rich with a wide and subtle range. The bakery scene is a good example of the level of detail. Every cake and pastry is in delicious focus and the various delights stand out with individual colors. The dimly lit bar is transferred with the ambient lighting in tact. The Dolby Digital 2-channel transfer is clean with good range. The ballroom scene comes to happy life and the final dance sequence is handles with a delightful upbeat and snap.